HOOKER HISTORY - PROSTITUTING OUR NEW ZEALAND HERITAGE
Once upon a time there was a placid and progressive little country at the bottom end of the South Pacific, where most everybody was getting on fairly well... then came the whores...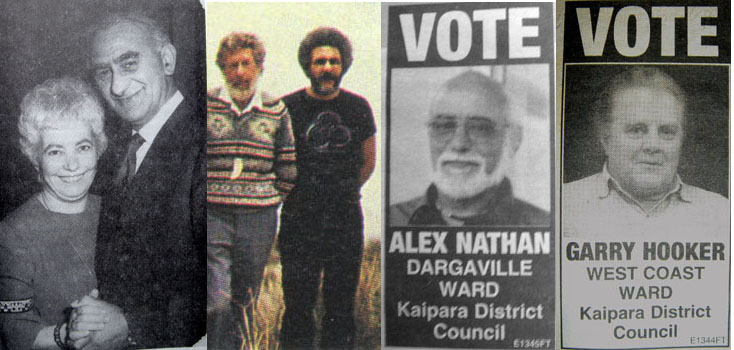 The Nathan led cabal, which mounted the false land claim against Allan and Susan Titford in order to steal their clear freehold title over lands sold to the Crown by Chief Parore Te Awha, in 1876.
To the far left is seen Katina & Ned Nathan. Katina was from Crete and was of full Greek lineage. Ned is estimated to have been 5/8ths Maori, 1/4 European & 1/8th Portuguese. The coloured picture shows Ned's son, the half Greek Manos Nathan in a black "T" shirt, standing beside Dr. Neville Hogg*. The picture was taken at the time Manos's Pouwhenua pole was raised before T.V cameras on Titford's private farm property. The great kaumatua of Te Roroa, Alex Nathan is seen next, trying to get himself onto the council. Australian born (?) Te Roroa claimant, Gary Hooker is seen also trying to get a foot in the door within the council. He is only 1/8th Maori, but acts in the role of propaganda minister for the cabal. The true facts of Te Roroa history, as contained within this article, are very conspicuous by their absence in Gary Hooker's very selective, self-serving approach to interpreting "history".
*Note: A prominent farmer around the Maunganui Bluff district, Mr. Downey, while deep in the bush at the Bluff many years ago, heard a strange and loud incantation nearby, so sneaked over to the source of the tumult. He found Dr. Neville Hogg in ritual ceremony, arms raised in devout supplication and earnestly invoking Maori gods. Dr. Hogg used to spend a great deal of time wandering through the forested hills in the area, exploring. The Nathan cabal were quick to use him as a European figurehead in support of their very dubious cause, presumably to win-over some European sympathy or to promote the illusion that there might be some substance or legitimacy to what they were claiming. They, thus paraded Neville Hogg gratefully before the cameras at the raising of Manos Nathan's Pouwhenua.
Noel Hilliam, former Curator of the Dargaville Maritime Museum, well remembers Ned Nathan coming to the Museum in 1980 and asking for source information on local whakapapas (genealogical links). Mr. Hilliam supplied Ned Nathan with a copy of the rare book, The Peopling of the North, by F. Percy Smith, for in-house reading on museum premises. After some considerable time spent perusing the book, Ned exclaimed, 'Oh, that will do'. He wrote out a family tree, then, according to Noel Hilliam, crossed out a name and inserted another in its place. Noel considered the act to be quite strange, until a few years later, when Ned Nathan became heavily involved in the Waitangi Tribunal and land claims, with himself and his immediate family as the primary beneficiaries. Noel, thereafter, strongly suspected that Ned Nathan had manufactured some aspect of his whakapapa for the land claims process. Other Maori in the know have commented that the Nathan whakapapa has areas "that are in spirit only".
The Nathan family name is, in fact, a bit confusing due to a lot of swapping around of the name of a shipwrecked ancestor, Nathan Porto-ava who was on the French ship L' Alcemene, which was wrecked on the Northwest coast in 1851. Nathan or Natana Porto-ava or Patuawa was, as best we can determine, from Fortune Island, Batangos, Philippines. On the centenary of Nathan Porto-ava's death a memorial tribute was held at Taita Marae, and written up in the Dargaville & District News, October 7th 1998. The paper stated that Natana Patuawa 'was the son of a great chieftainess and belonged to the Ngapuhi tribe.' The paper tribute goes on to state: 'During his life Natana collected money for Hone Heke [a grand nephew] and was a known travelling companion of Bishop Selwyn and Henry Williams'.
Hone Pokai Heke died in 1850, a year before Nathan Porto-ava arrived in New Zealand at the youthful age of 18-years, so the statement can't be in reference to him, although he's the only "Hone Heke" that the public, at large, would think of. It's quite probable that this statement to reporters was merely a "sleight-of-hand" trick to make everyone think of Hone Pokai Heke, when in fact the spokesperson was referring to, virtually unknown, Member for Northern Maori, around the turn of the century, Hone Heke (circa 1900). Irihapeti Patuawa, daughter of Nathan Porto-ava and his wife Tarati, was born at Paihia, so it's very likely that the family had encounters with both Bishop Selwyn and Reverend Henry Williams. Tarati was, possibly, Ngapuhi, so perhaps Nathan Porto-ava was considered Ngapuhi by adoption or marriage. Some Te Roroa commentators state that Tarati was Ngati-Whatua.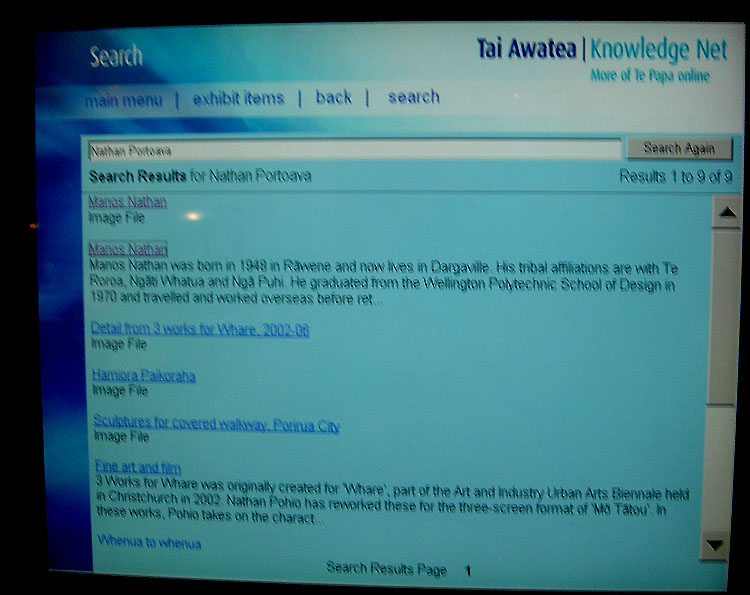 At Te Papa Museum in Wellington, N.Z., contributors to the collection get honourable mention and feature on the in-house computer. When one puts the name Nathan Portoava into the computer, the name of Manos Nathan, along with a photo of him, appears on screen. Inasmuch as Manos Nathan fabricated some ceramic pots for the Maori section (Maori never fired pots or had any knowledge of ceramics), an article is included about him. His name is listed variously as Manos Nathan or Manos Nathan Portoava.
Ned told historian Joan Leaf that his brother was the Anglican minister of Rawene, who bore the surname of Patuawa, whereas Ned's surname was Nathan. Joan found this to be quite strange. Even the family genealogy is confusing, as Ned claims that his parents were Aperahama (Aberaham) Natana and Sophia Urikore Cummins. Although Alex Nathan says the couple had 8-children of which Ned was the 5th, Internet genealogical references, submitted by close family members, state that Aperahama's & Sophia's union produced no children. Were Ned and his Anglican minister brother adopted? Do the present-day cabal leaders of Te Roroa, Alex and Manos Nathan, have any Te Roroa blood links at all? As stated, one Te Roroa commentator said, 'you must realise, of course, that parts of the claimed Nathan whakapapa are "in spirit only"*.
*Footnote: In the late 90's there was an incident at a Marae (Taita?), where the claimed Nathan whakapapa was called into serious question. Alex Nathan was giving an oral delivery of his whakapapa, when he was interrupted by a leading Northland kaumatua who stated, 'you cannot claim that ancestor, as she was barren and had no children'. Alex Nathan is reported to have stopped his delivery forthwith and taken his seat, looking very embarrassed.
Prior to the eighties, the Nathans had lived for about twenty-five years in the Porirua-Wellington district, around Titahi Bay, where they ran some sort of Greek restaurant. They were known locally as "The Greeks" and tended to promote their Greek links and culture.
A "gushy" propaganda article about the Maori-Greek Nathans was written by "twisted Greek racist and hater of all things British", Athena Lambrinidou and appeared in Odyssey Magazine. For this truly nauseating, brown-nosing account, very insulting of the sacrifice of European soldiers who gave their lives in Crete during W.W.II, or showing Lambrinidou's utter ignorance of true (non-propagandised) New Zealand history, see: http://www.odyssey.gr/article.asp?pagecode=02&entryid=1326
It would appear strongly that, with new legislation brought in to empower the Waitangi Tribunal, Ned and his offspring saw a unique opportunity to make major financial gains as "born again Maoris", so moved from Wellington district to get a claim underway for themselves in the north. Thereafter, Ned got very active, in collusion with close mates like Graham Latimer, to get his finger in the rich grievance-industry pie and set himself up as the great new kaumatua of Te Roroa, supplanting the authority of the more placid or traditional royal families of the district in the take-over process. He also managed to get plenty of co-operation and help from family members who had taken over government departments, like Sam Brown (Head of Lands & Survey) or Tom Parore (Head of the Land Court). The Nathan network developed very far reaching tentacles of influence that extended into the highest levels of government or law.
In the best traditions of "the squeaky wheel gets the oil", a vocal and militant cabal of usurpers was formed, the mantel of which has now passed to control-freak Greek and "born-again Maori", Alex Nathan. The new great Maori leader of Te Roroa, Alex, now has to be consulted on everything to do with the Dargaville-Waipoua Forest district, even, apparently, down to recent desires for David Bellamy to film and comment about the grand Kauri tree, Tane Mahuta, which Alex refused permission to allow...a pretty amazing con-job for someone who is only about 1/4th Maori and, of that, only 1/8th Te Roroa hapu, depending on whether or not Sophia (Sophie) Urikore Cummins-Natana truly was his grandmother.
Dignified Te Roroa kaumatua and respected elder, Jock Leaf, once owned substantial tracts of land in and around the Waipoua Forest, which he had legitimately purchased off other Te Roroa owners during his long lifetime in the north and for which the family retain documentation. Since Jock's passing on December 24th, 2005 the family have come up against a brick wall in getting any acknowledgement of their holdings and are very concerned that Alex and the cabal are attempting to "absorb" the land owned by Jock's heirs. Based upon the cabal's latest land-grab "Information Pack", issued to their inner-sanctum of conniving members, this could well be the case. A locked gate has, for over a decade now, blocked a pubic road bridge across the Waipoua River that leads to a very large tract of prime public land stretching up the coastline. The Nathan cabal, in collusion with forestry and DOC control-freaks, determine who can enter and who can't. The much aggrieved, righteously-indignant cabal, forever shedding crocodile tears and bemoaning their "dispossesed" state or the historical injustices committed against them, wants all of this "compensatory: territory". In fact, the eternally lamenting Nathan cabal wants much, much more, ranging from Dargaville, where they've seen a vacant lot that tickles their fancy, all the way up the west coast to the Hokianga Harbour, throughout which stretch it is their heart's desire to "absorb" many large parcels of real estate and lucrative commercial resources.
"Ab-Zorba the Greek", Alex Nathan and his parasitic leech cohorts, are despised by the more normal and less militant members of Te Roroa, who resent the terrible disruption and ongoing conflict this "born-again-Maori" family imported into the north during the 1980's and thereafter. The Nathan-backed gang of thugs harassed many peaceful farming families and started fights, deliberately, in an effort to claim & "absorb" many coastal farms, by forcing government intervention to diffuse the situation.
Hardworking farmwife Elizabeth Bibby was labelled a "Nazi Bitch" then both she and her husband John were constantly harassed and intimidated for about twelve years by the thugs, until forced to lose the farm by a false land claim mounted by the Nathan-led cabal. The same thing has happened to a drove of other titled land owners in that troubled northwestern coastal district, a fact that goes unreported and remains unbeknown to most New Zealanders. There is growing list of people in the north who have fallen victim to the Nathan brand of government-backed psychological warfare and had their lives and livelihoods ruined in the process.
In the very near future, the Nathan-led cabal has ambitions to defraud the New Zealand public and private landowners out of the following substantial parcels of land and commercial resources.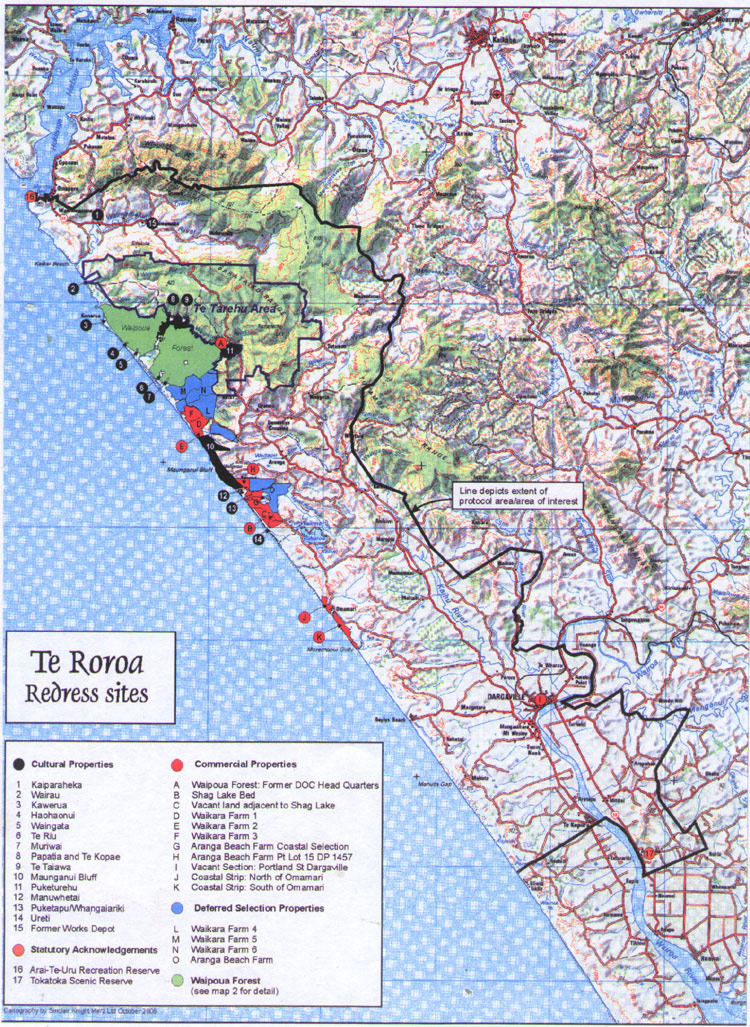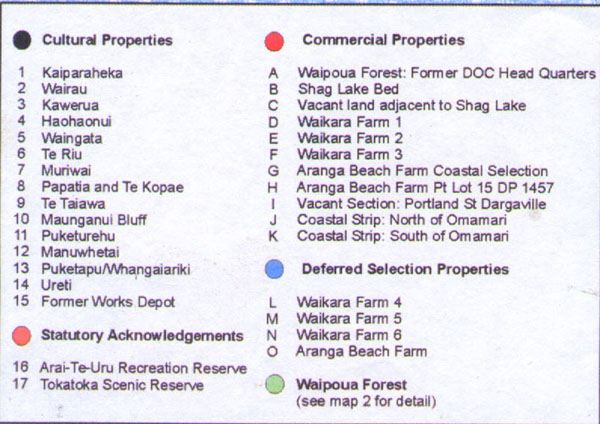 Have a look to see if the Nathan cabal are planning to grab your property as well... Maybe you're the owner of that "vacant section" in Dargaville that they're eyeing up for acquisition in the very near future. These documents were acquired from a disenchanted member of Te Roroa, who is sick of the deceit and fraud being perpetrated by the Nathan cabal.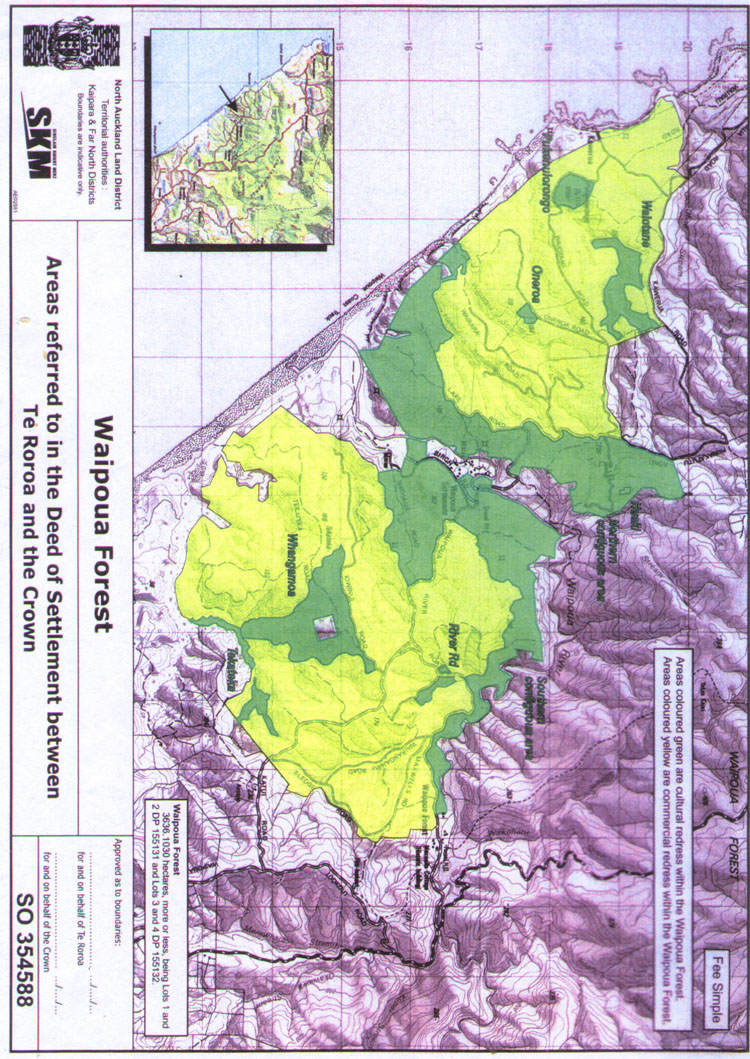 THE TITFORD'S... THE FIRST TO FALL FOUL OF THE GREEK MAFIA
Michael Corleone: My father made him an offer he couldn't refuse.
Kay Adams: What was it?
Michael Corleone: Luca Brasi held a gun to his head, and my father assured the bandleader, that either his signature or his brains would be on the contract. (See The Godfather, by Mario Puzzo).
After years of government tolerated harassment by squatters, constant Nathan led intimidation or violence, assaults and punch-ups by Maori claimant thugs and police, death threats and near misses from bullets or "bump-you-off-the-road" cars, ongoing sabotage of farm equipment, cutting and removal of fences, arson of their two farm houses resulting in total destruction of all their personal belongings, ongoing rustling or murder of stock, confiscation of firearms by the police to leave the isolated farming couple unprotected in the middle of Apache country, deliberate government interference to make it impossible to run the daily affairs of a viable farm business, freezing of assets by the government owned Rural Bank using "starve-you-out" stalling tactics of withholding funds or outright confiscation of farm transactional money, devaluing of assets by getting DOC archaeologists to declare fake wahi-tapu's indiscriminately around the property in order to strip away land value and force bankruptcy, constant court appearances on concocted or trumped-up charges, regular character assassination by a biased and government controlled bunch of media whores, attempts to have Allan Titford declared insane by offering tempting financial enticements to members of Allan's own family including his brother Brian and father, denial of basic human rights under the Land Transfer Act 1952 and a host of other Acts, allowing no funding for self-defence in court when the opposition were given several hundred thousand dollars in legal aid to prepare and mount a case before the Waitangi Tribunal, no right to defend their freehold farm title in a court of law, threats to valuers who made fair appraisals of the Titford farm and assets, threats to law firms engaged by the Titford's that they'd get no future government work or funding unless they dumped the case, etc., etc., the Titford's were forced, under extreme duress, to enter into final negotiations to lose the farm and walk away with virtually nothing after all the debts were paid. When Allan refused to sign the Deed of Transfer until a number of final conditions were met, some upper-level government functionary FORGED his signature so that the title could pass illegally to the government without Allan Titford's sanction.. In the final, punishing tally-up, after the Government, Rural Bank and ACC or others had unleashed their "creative accountants" to grab the remaining spoils or "pay-off" helpful parties (with Titford owned cattle, farm equipment or plant), Allan Titford gained about enough money to buy a 5-acre block.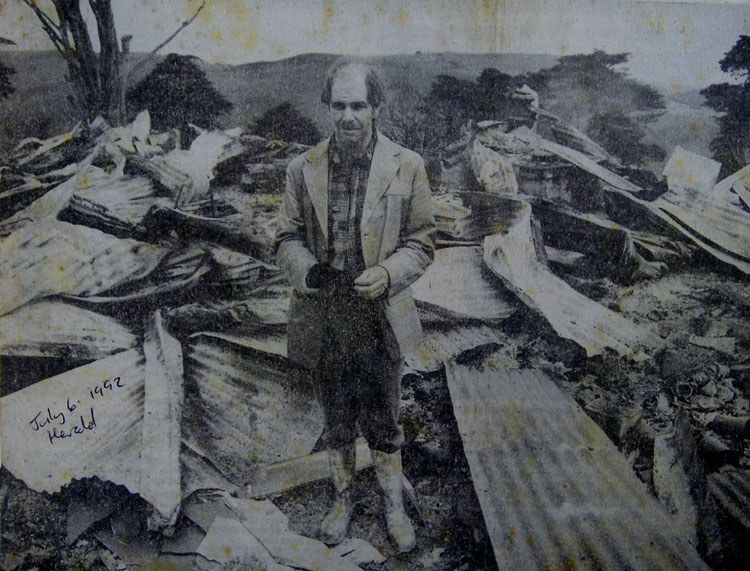 Allan Titford standing in the ruins of his farm home at Maunganui Bluff in 1992, the second to be burnt to the ground by (????)*. By this point in time Allan and Susan Titford had been constantly terrorised for five years and the New Zealand government stood back and let it all happen or worked in collusion with the activists. Because of deliberate distortions of the Treaty of Waitangi between 1975 and 1992 or thereafter, up until the present, white New Zealanders were left defenseless by a government whose sworn duty it was to protect them and their freehold titles under the Treaty of Waitangi. The government of New Zealand are not only in breach of Allan & Susan Titford's guaranteed Treaty of Waitangi rights, but are also in breach of The United Nations Universal Declaration of Human Rights 1948, Articles: 1, 2, 3, 5, 6, 7, 8, 9, 10, 11, 12, 16 17, 21 23 and Article 30 or sections within all of the above. Well-documented incidents can be cited to support this contention. See SUBMISSION
* Footnote: Due to an organised smear campaign (November 2013) Titiford is now accused of burning down his own home to gain, "public sympathy". The nonsense that Allan Titford burnt down his own home and the valuable, irreplaceable Bohemian heirlooms of his settler family, as well as all of his hard-won historical records, is just too big a lie to swallow.

His house insurance had been cancelled and, besides, Prime Minister David Lange had issued an edict that "no private land would ever be lost to a Maori land claim". Titford had absolutely no reason under the sun to burn down his own house for something as stupid as gaining "public sympathy", but it certainly provided the police with a much-wanted, immediate opportunity to kick the Titfords off the property.
The government agency extortionist racketeers, intent upon getting some semblance of a sale agreement that they could make stick, had to falsify the "Deed of Settlement" papers. The coercion applied, by strong-arm, stand-over tactics, was illegal under the "Land Transfer Act 1952" (& 1948). It was also highly illegal under the "Contractual Enforcement Act 1956", due to the falsification of the Deed of Settlement papers, shoved through with Allan Titford's written conditions and protests deleted. This illegal tampering with sale documents was so serious that the government refused, for almost fifteen years, to make the papers available, until finally sourced under the "Official Information Act 1987" (unobtainable until the 1st of November, 2006). The Crown would not even supply Allan Titford's nominated lawyer, Mr Clive Jackson of Jackson-Whittaker in Auckland with a copy of the Sale Agreement or Deed before or after the settlement. In fact, neither Mr Jackson, nor Mr Titford ever received a copy of the executed Sale Agreement or Deed from the Crown in the many years that followed, despite ongoing requests. Lawyer, Mr. Clive Jackson was refused a copy on the grounds, "the documentation was confidential".
This deliberate falsification of Deed & Sale documents, by subordinate Government employees, is particularly despicable for the following reasons:
Before "Title" could be transferred from Allan Titford to the "Her Majesty the Queen" the documentation had to be subjected to "Parliamentary Review".


Documentation supplied to Parliament, by subordinate officials, had been deliberately tampered with to remove Allan Titford's notations or conditions indicating that he was "signing under duress" and that he did not accept that the arguments presented, as to why he should forfeit his farms and assets, were valid.


Allan Titford did not accept that the price being paid was fair, as it had been determined solely and illegally by "government valuers" only and the "correct market value", as arrived at by of his own "independent valuers", had been disallowed (in breach of the Acts of 1948 & 1952).


The notations indicated that this was not a "Willing Seller- Willing Buyer" transaction, but instead was a "forced sale under duress" (illegal under the Act).


When the government came back to Allan with a much reduced offer from an earlier offer, he refused to sign the Deed of Transfer until conditions at least equal to the previous offer and closer to real, independant valuations were met. Some government functionary then FORGED Titford's signature on the Deed of Transfer and, to his complete astonishment, he heard through the media that the farm had been acquired by the government. Both he and his lawyer were subsequently refused copies of the "Sale Agreement" papers. and he was unable to access them for 12-years thereafter. The many "versions" of papers, which he finally was able to get in dribs and drabs through multiple Official Information Act requests, had been severely tampered with and altered by government employees.


It became glaringly apparentt that Allan Titford's lawyer, Clive Jackson, had been refused the papers solely because they had been radically & illegally "tampered with", including Titford's forged signature on the transfer deed.


Parliament, because of "falsification of the true facts" and "Sale Agreement" documents by subordinates, was not supplied with correct information, sufficient to arrive at an informed decision in behalf of Her Majesty the Queen. The deceptive, forced acquisition of the Titford assets, using unfair "blackmailing or extortion tactics", FORGERY and other "dirty tricks", all done in the name of the Queen, lacked essential integrity. Therefore, any path leading to "Royal Assent" in this decision making process, was strewn with falsehoods, not made clear or even available to Parliament.


Given the circumstances, the lands and assets in question must automatically revert to the ownership of Allan Titford, as significant tampering with the content of partially signed and notated documents occurred between the time they left Allan Titford's possession and when they were presented to Parliament. The avowed purpose, in the presentation of these documents before Parliament, was to ascertain that all of the legalities, leading to the correct transfer of "Title", had been satisfied in accordance with the Acts. Titford's supposed signature that Parliamentarians saw on on the transfer deed was a forgery by a government employee.
The one insurmountable, blackmailing tactic the Titfords couldn't overcome or fight, leading to this "forced signing" of some final papers pending a full sale agreement, was the very real threat that Allan Titford's parents, as guarantors and consignees to the Maunganui Bluff farm purchase, being forced by the government to lose their Waiwera family farm of four generations ownership. This was the gun-at-the-head "offer he couldn't refuse", proposed by the government's sinister "Mr. fix-it" henchman, Ray Chappel.
The Mafia Godfather, Don Corelone, couldn't have done it better.
The New Zealand public have no idea of the wear-you-down, strong-arm tactics that went on behind the scenes in this case and Ray Chappel, the government's, extortionist expert, even boasted how "we own the media and can manipulate public perceptions of you". He also, in smug confidence, told the Titford's that the background history to the Te Roroa claim against the Maunganui Bluff farm property was "so complex, with the true documentation so well-hidden, that they'd never be able to work it out and raise a counter-case".
The miserable old henchman still dutifully shuffles around the corridors of Bowen House, Parliament, forever engaged, undoubtedly, in the government's "special work", for which he has considerable talent. He once boasted to Allan Titford that 'he's never failed in getting what he wants and had worked under six prime ministers'. He further stated, 'It doesn't matter how good your case is or how much evidence you find, because we own the judges and you'll never get anywhere'. He cautioned Allan Titford strongly, not to 'fart on the church pew', in other words, don't make a big stink or unwelcome, unholy noise in public, 'or we'll punish you forever throughout your life.
Chappel stated that the only right Allan had under the Treaty of Waitangi was the right to 'be in the county'. He said that 'the Treaty was between the Maoris and the Crown', meaning 'government representatives such as himself'. He told Allan Titford that the farm 'didn't belong to him anyway, as the mortgage was held by the Rural Bank (of which Chappel was formerly a top director) and the land is now a 'Historic Place'. This latest little devious wrinkle was due to the "dirty tricks department" of DOC and Historic Places Trust "suddenly finding" evidence of "middens" and declaring a "wahi-tapu"*, after claimants were seen carrying in buckets containing shells and burnt rocks to dump in spots along the newly bulldozed road that Allan had just put in for his coastal subdivision.
*Note:. The ever-creative "dirty tricks" department used the excuse that there were Maori burial sites in the same area where the claimants were observed to be bringing in bucket loads of burnt rocks and shells. The only known graves in the recorded history of the area were those of six French sailors from the L' Alcemene shipwreck of 1851, which remains were removed before W.W.II for reinterrement at another cemetery. The former grave is now covered by a house of Aranga Township on the sea coast.
So, to Political Scientists around the world studying how "Democracy" works in New Zealand, the Titford case gives you a perfect sample of how the New Zealand Government deals with the majority of it's citizens:
It's a totalitarian regime, only feigning or giving the illusion of democratic rule, but not the least averse to using dirty tricks, intimidation and strong-arm tactics to get what it wants. Our government departments and institutions have been largely infiltrated, occupied or hijacked by Maori activists and supremacists, whose working philosophy is guided by manufactured, "grievance-based", Marxist pseudo-history. The country has major problems.
The Titford's however, by sheer bloody mindedness borne of anger over the injustices meted out to them; wounded pride over the unwarranted character assassination insults, accusations and demeaning propaganda levelled at them in the whore media; righteous indignation for the treachery of multiple government departments or officials who should have protected them but didn't; they searched relentlessly in both the Australia and New Zealand for documents pertinent to their case. Bit-by-bit, over time, they found and pieced together all that they needed to reconstruct the true history and prove that they had always held a legal, indisputable title to their farms at Maunganui Bluff.. The reams of true historical documentation accrued prove conclusively that Te Roroa claim Wai 38 is a very transparent fraud. It proves that deliberately doctored, very selective and distorted historical information was, for the sole purpose of acquiring assets under false pretences. The prostituted Hooker-history submitted to the Waitangi Tribunal by the Te Roroa claimants or that of "premeditated-outcome" historian-lawyers and spin-doctors from Crown Law and Historic Places, effectively rendered null & void, the legal titles covering the Titford and Harrison farm properties.
This was a gross travesty of justice, which has too long been allowed to persist, despite the huge body of new, documented evidence, relative to the case, having been presented by the Titfords to the government. This ugly blotch on the government's record, in singling out, bullying and terrorising an innocent young farming couple into subjection, will never go away or be satisfied by token compromises after the event or deceitful statements of justification now being proffered such as, "willing seller-willing buyer". The Titfords were never willing sellers and it was very much a forced sale by a couple that the government deliberately bankrupted into submission, according to a premeditated plan of interdepartmental co-operation. As stated, several very influential and active government department heads, engaged in opposing the Titfords, were also Te Roroa claimants or closely related family to the claimants, with a vested interest in the outcome.
There has been ongoing criminal negligence by ministers of the Crown and dereliction of duty by successive governments on this issue, which lapses in responsibility must be fully and finally addressed in an open and honest public forum. The case must be reopened and all New Zealanders must be granted full disclosure of the true, cross-examined facts in order that justice is seen to be done and the ongoing vexation laid to rest permanently. Public confidence in the government needs to be restored on this matter, as negative feelings of incompetence or unfair tampering by elected officials are the overriding perceptions. Too many New Zealanders know the facts of this case and the issue will fester and cause problems for all the years to come, unless corrected.
To clearly establish who the true Maori owners were of the Titford and Harrison farm properties in 1876, and whose right it was to sell the huge Maunganui and Waipoua blocks to the Crown, one needs to review the history of Maori wars and conquests, going back into the 1700's and before. One also needs to review the agreements and "trade-offs" entered into by the owners and part-owners in 1875-1876.
Here is the true history that Nathan cabal, Minister of Propaganda and self-serving pseudo-historian, Gary Hooker, omits to mention.
By 1875 it was essential to establish ownership of lands on the Northern West Coast of New Zealand, situated between the Hokianga Harbour and extending down to the Kaiiwi Lakes, south of Maunganui Bluff. The final contending parties were Parore Te Awha (considered to be Ngapuhi) and supported by Ngapuhi and Tiopira Kinaki (Te Roroa ), supported by Te Roroa and Ngati Whatua. All parties were claiming the areas based upon occupation, ancestry and conquest. Both Parore and Tiopira mentioned a right to these areas via a lineage back to Toa of Ngatiwhatua or to subsequent ancestors who inherited areas within the region following the epoch of Toa and Ngatiu of Western Ngapuhi.


Toa, by the late 1600's, had control of lands from the Hokianga Heads to Waikaraka on the north side of Maunganui Bluff. Additional historical accounts speak of his lands extending all the way down to the Northern Kaipara harbour. His holdings at Waimamaku and Wairau were given to the children of his first wife, Waitarehu of Te Roroa, formerly from Waimamaku. His interests in the lands of Waipoua, extending through the Waipoua Forest to Waikaraka (Maunganui Bluff boundary and beyond to the Northern Kaipara), were given to his third wife Te Hei of Ngati Ruanui, formerly from Whangape. His second wife had no children.


Contemporary to the time of Toa, a blind man of great importance named Pinea was buried alive atop Maunganui Bluff, as his people were tired of carrying him around. His mission, in death, was keep watch over the vast lands extending southward to the Northern Wairoa. His mother, Wareiahunga and also his wife, Takutaiakura, were of o Ngati Rangi, who had arrived in about 1300 AD had taken the land from the original people. Pinea was the father of the five hapus of Ngati Whatua, who mostly settled the Kaipara district. Te Roroa gained some links to Pinea through the marriage of Tarawanoa (f) to Rongo of Ngati Rongo hapu from Ngati Whatua. He was the son of Haumoearangi of Kaipara. Haumaoerangi, in turn, was the chief living on Mt. Wesley (Dargaville) in 1600). The Ngati Rangi had come on the Mamari canoe and had landed at Omamari in 1300 AD. The ancestors of Haumoearangi were dropped off the Mahuhu-te-rangi canoe in the Kaipara and displaced the original people. The canoe returned to the far north and the ancestors of Toa moved, over several generations, progressing southward through the Hokianga and by 1500 were found in the South Hokianga from Waimamaku to the Waipoua.


Two generations after Toa in about 1760 AD, Taramainuku, inherited further rights to lands extending from Maunganui Bluff and Tutamoe Mountains to the Wairoa River at Dargaville. He received this territory from his half sister Teheru of another mother from o Ngati Rangi. Taramainuku, in turn, was the grandfather of Parore Te Awha (considered to be Ngapuhi by the 1870's) who featured prominently in land sales at Maunganui and Waipoua in the mid 1870's.
One historical account speaks of a 1793 Ngati Whatua attack on Ngapuhi proper at Pakatona.


In about 1795 the Te Roroa hapu (descedents of Toa's first wife Waitarehu) were attacked by the forces of Western Ngapuhi chief Rori at Ponaharakeke, near Waimamaku, south of the Hokianga harbour, and defeated there. Te Roroa refugees fled south onto their Wairau block. The conquerors remained at Waimamaku for about a decade before returning to their lands to the north. Chief Rori was an ancestor of Wi Pou of Ngaitu, who featured prominently in the Waipoua and Maunganui block sales to the Crown in 1875-76.
According to evidence presented by Tiopira Kinaki in 1875, (Northern Minute Book 2, page 207 -

 

208, concerning Case of Waimamaku, Wednesday 16th June 1875) after Te Roroa warriors subjected some of Rori's captured fishermen to torture and indignity at Kawerau, south of Waipoua, Rori devised a cunning plan to lure Te Roroa forces from their new-found stronghold at Wairarapa PA. Again, Te Roroa were soundly defeated, with three of their primary chiefs killed.


Depending on blood links, Te Roroa refugees went onto land owned by the descendants of Toa's third wife Te Hei. By this time there were approximately 3 generations of Te Hei's lineage, who had married Ngapuhi proper women and the Te Roroa refugees were becoming distant cousins, as their blood links had remained within their own group.
The dispossessed Te Roroa survivors of Rori's raids had to settle at wherever sanctuaries they could find on the lands of other hapus, to which they were distantly related. Some had fled to Opanake (what's known as Kaihu Valley today), about 15-miles Southeast of Maunganui Bluff or beyond to the south and attempted to live there.


At about the year 1800 an old Te Roroa woman called Kahukore, sent her son, Taoho to plead with chief Kukupa that he might be allowed live in peace at Kaihu until he died. Kukupa consented. Amongst the defeated Te Roroa people given permission to live, as squatters, at Kaihu were these ancestors of Tiopira Kinaki, who many years later in the mid-1870's, featured prominently as a vexation and troublemaker, interfering in the affairs and attempting to use the British legal system to steal the possessions of chief Parore Te Awha at Maunganui Bluff and Waipoua.


After a few years Taoho, living with Kukupa's permission as a squatter at Kaihu, felt confident enough set up a "rahui", or boundary marked reserve, immediately south of Maunganui Bluff, prohibiting the true owners from entering the land there. Chief Te Awha and Kukupa, along with their forces, went south from the Waipoua and destroyed the Te Roroa plantations. They also cut down the illegal rahui boundary marker pole of the Te Roroa land-grabbing thieves.



Almost two hundred years later, in 1988, Allan Titford, was forced to repeat this same act of cutting down a false rahui placed on his land. A rabble of "born again" Greek Maoris, led by Alex and Manos Nathan, concocted a false claim over the Titford farm. Earlier, Ned Nathan, in collusion with the newly empowered Waitangi Tribunal upon which he often sat* created a body of fraudulent history for the express purpose of forcing the government to steal the land from the Titfords. The modern day cabal of thieves, most with only a minute trace of Te Roroa lineage, if any, placed an illegal Powhenua (rahui boundary marker pole) called Pinea (which in their twisted sense of humour was made of pine...a non-New Zealand wood species...Pinus Radiata) on Allan Titford's fully titled Maunganui Bluff property. Although a half Greek (Cretan) himself, with diluted down Maori ancestry, Manios Nathan, carver of the Powhenua, placed his rahui pole in the same general vicinity where Taoho of Te Roroa had placed his almost 200-years previously. The Nathan [Patuawa] family had a long record of trying to get this land for nothing, extending back to Wi Natana, son of Natana Patuawa (Nathan Porto-ava). At the time Wi Natana made his first attempt to claim land at Maunganui Bluff [circa 1900] he had no known blood affiliation to the Te Roroa hapu at all and the land had been under full Crown ownership for a quarter of a century. It would appear that his mother, Tarati, was Ngapuhi, but others say she was Ngati Whatua. Wi Natana's claim was refuted out of hand as ridiculous by the Succession Claims Court.
*(See, for example Claim Wai 10, the Waiheke Island claim, brought by Hariata Gordon for Ngati Paoa on 8 March 1985, in which Ned Nathan participated).
The angry reaction by Te Awha and Kukupa caused the somewhat humbled, Taoho to go to the Waipoua to plead with Te Awha, who told him in no uncertain terms that Te Roroa hapu had no possession of land to the south at Maunganui Bluff or the Kaihu Valley. They were living there only as guests or squatters, whose former conquered lands were at Waimamaku. Chief Te Awha was the father of Parore Te Awha, who later featured prominently in the sale of the Maunganui block to the Crown. This attempt by Taoho to steal the land of Te Awha was the beginning of lingering resentment that festered and caused conflict throughout ensuing generations.

Historical documents show that at one point the Ngaitu hapu of Western Ngapuhi, came down from Whangape and occupied Waimamaku, with some of that hapu setting up residence in the Kaihu Valley and later having major disputations with the Te Roroa hapu in residence there.


In about 1805 Chief Pokaia of Ngapuhi, who was also the uncle of Hone Heke*, came down to visit Parore at Waipoua, while the Te Roroa exiles were living there. During the visit, word came up from Otamatea to Te Roroa chief Taoho that adultery had been committed when the wife of Pinaki, son of Te Toko, had been seduced by one of the Ngati whatua men. This was a grave insult, for which Te Toko called upon chief Taoho and Te Roroa for assistance in dispensing retribution at Uri-O-Hau PA. Ngapuhi chief Pokaia and his party were invited to witness the proceedings and punishment of chief Te Hekeua and his people for the offence. Te Roroa organised a war party and chief Pokaia of Ngapuhi proper, along with his party, accompanied them south to Otamatea as observers and non-combatants.
*Hone Heke was the son of Kau (brother of the chief Pokaia), and of Tupanapana. He was a nephew of Hongi Hika.


Unbeknown to chief Pokaia of Ngapuhi, he was being lured into a trap and was to become the victim of treachery, for, upon arrival at Te Hekeua's PA, Te Toko and Taoho were summonsed, by signals back and forth, to enter peacefully into the PA of their kinsfolk, while chief Pokaia and his party were forbidden to enter, but left unprotected outside. Te Hekeua and his warriors then attacked Pokaia's party, and Te Hekeua slew Te Tao, Pokaia's son. This was the terrible price Pokaia paid for agreeing to come and be a witness in the quarrel of others. Chief Pokaia now had a deeply personal take or cause against the Uri-O-Hau tribe and chief Te Hekeua in particular, for which he demanded vengeance be satisfied by chief Taoho of Te Roroa, who had lured him and his party to this place of danger. This is the actual incident that started the "Musket Wars".


Pokaia took the body of his son north to Opanake where present-day Kaihu township is located and buried him there. Before returning to Kaikohe, Pokaia admonished Taoho to seek revenge for "our son" (ta taua tamaiti). He returned to Opanake one year later to exhume the bones of his son, in order to convey the remains back to his people for the tangi ceremony. Pokaia now learnt that Taoho had taken no steps to avenge Te Tao's death and consequently, his take now turned against the Taoho and his section of the Te Roroa hapu and assumed such proportions that he was obliged, by Maori "utu" custom, to avenge the murder of his son. Soon after arriving home with Te Tao's bones, other contributing events occurred, which brought Pokaia's feeling of retribution to a head and sealed the impending fate of the treacherous Te Roroa.


At around this time [1806] Pokaia resolved to attack Te Roroa. He, therefore took the wife and children of Tore-tumua-te-Awha (Parore Te Awha's father), to whom he was related, to Manga-Kahia, south of Kaikohe in order to save their lives from the impending war that was nigh at hand.


Modern-day Te Roroa commentators, basing their statements on those of disgruntled Te Rore Taoho, son of Taoho (whose version of history was recorded nearly a century later in 1898 after his opposition had died off), claim that Te Roroa drove Tara-mai-nuku (the grandfather of Parore Te Awha) from his home at Waipoua. The Te Roroa raiders were under the leadership of Te Waiata (father of Taoho) and it is claimed that they occupied Tara-mai-nuku's lands at Waipoua and Kaihu. Modern opportunist Te Roroa commentators state that Tara-mai-nuku and his people, once ousted from Waipoua, attempted to settle on their lands at Kaihu. They state that Te Waiata attacked them there as well and defeated Tara-mai-nuku's forces in the battle of Wai-tata-nui on the Kaihu mountain beyond the Kaihu block. Te Roroa commentators go on to claim that Tara-mai-nuku and other survivors fled south, abandoning their lands completely to the possession of Te Roroa conquerors. There is no documentation by anyone else, other than Te Roroa, that any of Parore's people or those of his grandfather, Tara-mai-nuku, were killed in this alleged conquest of their lands by Te Roroa. To the contrary, all the evidence shows Te Roroa were driven into exile.


Much of Te Rore Taoho's biased account was disputed by Ngapuhi historical commentators, who stated that the land was never abandoned and that Ngapuhi warriors remained steadfastly in place at Kaihu, only evacuating their women and children to Kaikohe temporarily for their physical safety. A close scrutiny of historical documents gives no support to Te Roroa's version of events, and it's quite evident that Tara-mai-nuku, supported by Ngapuhi, was never forced to abandon his holdings at Waipoua or the Kaihu Valley.
Another contributing incident to the coming vengeance by Pokaia occurred, wherein a Ngapuhi woman was murdered at Waituna, near Waimamaku, through

the instigation of, or with the knowledge of, Te Hekeumu (Uri-o-Hau) and Te Toko (Te Roroa).

The stage was set for major reprisals from Ngapuhi and a preliminary skirmish took place at Waituna. In this battle Ngapuhi chief Eruera Patuone, of Ngati Hao at Hokianga, killed Te Roroa chief Tataka-hui-nui. Until the murderous incident involving the Ngapuhi woman the chiefs of Western Ngapuhi had not been in conflict with Uri-o-Hau.


After these events, Pokaia went south in 1806 and fell upon a small Te Roroa PA at Whakatau, near Maropui, taking the inhabitants completely by surprise, slaughtering them en-mass and later feasting on their corpses. This location was just east of the Kaiiwi Lakes in the upper Kaihu Valley and constituted the first overt act of revenge by Pokaia of Ngapuhi upon Taoho's Te Roroa hapu for their treachery. In revenge for this attack and slaughter, Ngati Whatua, who were somewhat related and allies to Te Roroa, took up arms to fight Ngapuhi. Te Roroa were now split into two separate camps, as some cousins had remained around Waimamaku if blood links to Ngapuhi had been sufficiently strong to ensure their safety. More distant kin had been forced to flee south to Taoho's hapu and all were now being chased into Ngati-Whatua territory..



In 1806 Ngati-Whatua chief, Muru-paenga, raised a war party that travelled north from Kaukapakapa, by canoes, proceeding up the sea coast and Wairoa river to attack Ngapuhi settlements at Mata-raua, there conquering the PA at Te Tuhuna. This war party later attacked

Tai-a-mai,

near Kaikohe, dangerously close to the home of Pokaia himself, and were equally successful in dispensing death to Ngapuhi there also.


In revenge for these attacks and the bruising of Ngapuhi's pride in their heartland, Pokaia turned his attention to Taoho's PA, Te Kawau, at Kaihu, which he successfully overwhelmed, causing Te Roroa survivors to flee a little further south to retrench in another stronghold.



The battles of 1806 raged on, with Pokaia determined to kill chief Taoho of Te Roroa. Pokaia attacked the Te Roroa PA named Tirotiro, situated in the Kaihu Valley and very close to where Taoho was living. Up until this point Taoho had taken little notice of the killing of his people, stating,'Let Pokaia take payment for the death of his son', but finding that Pokaia seemed determined to push revenge to the extreme, came to the conclusion that he could be the next victim. He, therefore, abandoned his settlement at Opanake in the Kaihu Valley and fled to Te Puka on the Wairoa River. Pokaia and his warriors followed him there and attacked, but were repulsed. Taoho fled once again, this time to Arapohue.


Taoho and his warriors entrenched themselves for defense at

Te Aratapu-a-mania, south of present day Dargaville. Pokaia's forces attacked, but were repulsed again. Taoho again fled further south, this time to Tiki-nui and Tokatoka. On these high rock upthrust and bluff areas, adjacent to the Wairoa River estuary, Taoho had sufficient time to set up more substantial defensive positions. Pokaia's forces, which seemed to have retired for a time after the battle of Ara

pohue, came down to attack Taoho's forces once again. Accompanying Pokaia on this occasion was Hongi Hika, who is generally blamed for the terrible "Musket Wars", which were started, in fact, by Taoho's treachery*, leading to the murder of chief Pokaia's son Te Tao and follow-on indignities suffered by Ngapuhi at the hands of Te Roroa and Ngati-Whatua invaders. Joining Pokaia at the battles of Tiki-nui and Tokatoka were the Ngapuhi subtribes of

Ngati-Korokoro, Ngati-Manu, and Te Hikutu of Whirinaki,

seemingly anxious to avenge the recent deaths of their people at Waituna.
*Note: This treachery by Taoho was the real cause of the terrible Musket Wars of inter-tribal fighting, which raged for about twenty years between 1817 onwards and might have affected as many as 60,000 Maori, killed, maimed or enslaved.


Because Taoho and his forces were so well entrenched on the high ground at or near Toka Toka, the battles were fairly indecisive, with both sides claiming victory. The fact of the matter was, however, that the Te Roroa people under Taoho's leadership were now in exile, fully driven from, and unable to return to the lands in the north that they had occupied in recent years
.
It is important to note that, in the case of Parore Te Awha, who later featured very prominently in the sale of the Maunganui Block to the Crown in 1876, his genealogy shows direct lineage to "Tino-Ariki", Rahiri and by consequence to both Pokaia (uncle of Hone Heke) and Hongi Hika (who won the "Musket Wars" started by Te Roroa and Ngati-whatua). Hongi Hika also meted out "utu" or revenge against other tribes, including Ngati Porou and Ngati Te Rangi of East Cape and Tauranga. These tribes had eaten Ngapuhi princesses and other Ngapuhi people who had gone with the convicts on the Brig Venus, stolen in Tasmania, Australia and sailed to New Zealand in 1806 by the fugitives from justice. The Ngapuhi people, later murdered and cannibalised by the East Coast tribes, included relatives of Hongi Hika.
It would appear that in 1806 Ngapuhi, under the war leadership of Pokaia, withdrew from fighting Taoho at Tikinui for a time, but it's uncertain that he withdrew from the district completely, although that distinct impression seems to have been concluded by chief Taoho. It would appear that secreted Ngapuhi observers might have witnessed Taoho and his men leaving the PA to go on a fishing expedition to the West Coast of Poutu Peninsula as, with Taoho and his warriors absent, Ngapuhi attacked and overwhelmed the PA. After Pokaia's forces had killed most of the unprotected women and children they retired towards Maunganui Bluff.


Thereafter, Taoho moved to the high prominent point of Tokatoka for defense and dwelt there where his observers could watch for enemy movements over a vast distance. He again ventured out on an expedition to gather Toheroa shellfish on the West Coast and was met by a small war party of allies from Ngati-Kawa, a subtribe of Te Uri-O-Hau, under the leadership of Te Pona. They were en route to attack Ngapuhi at Maunganui Bluff. Te Pona's war party proceeded north along the coast to Pa-hakehake, but were detected by alert Ngapuhi sentries under the leadership of Te Kahakaha. Te Pona's war party were attacked in the moonlight and, seemingly, taken by surprise, for about thirty of them were killed by Ngapuhi warriors, including, it seems, Wai-tarehu of the Te Roroa hapu. The location of this battle was north of Moremo-nui on the coast. A few of Te Pona's warriors escaped to carry back news of the defeat. Ngapuhi chiefs Te Kahakaha and Te Kairua were then living permanently at Maunganui Bluff and continued to do so until the time of the "peace deal" wherein Taoho was allowed to return and live under Parore's protection in 1824. Later, Ngapuhi chiefs Te Kahakaha and Te Kairuawhen moved back to Punakatere near Kaikohe, being ancestors to Wi Pou who later featured prominently in the sale of lands around Maunganui Bluff to the Crown in the 1870's.


An ambuscade befell Ngapuhi in 1807, that would have very serious consequences on Te Roroa and Ngati Whatua in years to follow, due to the deep resentment, arising from this incident, festering forevermore in the heart of Hongi Hika of Ngapuhi.. A war party of Ngapuhi warriors, seemingly from Kaikohe and led by Pokaia, ventured southward to invade Ngati Whatua territories in the Southern Kaipara district. Their movements were detected, however by forward guards of Te Roroa, watching for the enemy. Smoke was seen to be rising at Maunganui by watchers at Taoho's elevated PA at Tokatoka. Taoho soon knew that the south side of Maunganui Bluff was occupied by a large number of Ngapuhi, due to the glow of the fire at night.


Taoho relayed a signal or messengers were despatched directly to chief Muru-paenga of Ngati Rongo, one of the hapus of Ngati Whatua. He acted quickly, summonsing his warriors to depart by canoes across the Kaipara for the Wairoa River. They were accompanied north by Ngati Whatua proper or the main tribal body from Otakanini at South Head under the leadership of chief Te Wana-a-riri. The South Head PA was situated 29.25 miles SSE of Tokatoka and the Wairoa river, flowing into the Kaipara Harbour, passed immediately adjacent to Tokatoka PA where Taoho was ensconced. The Ngapuhi warriors coming down from the north assembled on the southern side of Maunganui Bluff about 30-miles to the N.E. of Tokatoka.


Scouts of Te Roroa were sent off, who ascertained that Ngapuhi were now in force on the south side of Maunganui Bluff at the settlement where Te Kaha and Te Kairua of Ngapuhi lived. One of the scouts clandestinely penetrated the camp by night, and moving quietly about, learning that Ngapuhi intended to move on the next night to Moremo-nui, twelve miles down the coast and camp there, as it was the only place along the coast where there was a sufficiently large opening in the cliffs to admit so numerous a war party. Whilst making his way out of camp the scout secured a basket of kao, or dried kumaras, and hastening back through the night, brought it to chief Taoho of Te Roroa, combined with the taua of Ngati-Whatua and Te Uri-o-Hau. The basket of kao was visible proof of the story he had to tell. An immediate advance on Moremo-nui to the north was decided on by Muru-paenga (of Ngati-rongo hapu) and Taoho, (of Te Roroa hapu) and before night the force was lying in wait to ambush Pokaia and his warriors.





Moremo-nui is a little stream which, after passing, through the sand-dunes on top of the red clay cliffs, falls into the sea about twelve miles south of Maunganui Bluff. The perpendicular cliffs are here about 150 feet high, and below them lies the long, straight, hard, sandy beach of Ripiro, which extends in one direct line for fifty-two miles from Maunganui Bluff to Kaipara Heads.

 

The little valley in which the stream runs is clothed in flax and toetoe, which afforded shelter to the Ngati-Whatua host, as it awaited the coming of Ngapuhi.



Before dawn the Ngati-Whatua host partook of a hasty meal, and not long afterwards, just at the break of new day, the Ngapuhi army appeared, and, not suspecting the proximity of their opponents, at once took off their belts, laid down their weapons and proceeded to prepare a morning meal

.

Whilst eating they were suddenly attacked by Ngati-Whatua, who had been laying in wait, and for a time a great scene of confusion ensued, as warriors rushed here and there to secure their weapons. Ngati-Whatua soon drove them to the open beach, where an obstinate fight took place, lasting for some time, as success first favoured one party, then the other. The Ngapuhi guns stood them in good stead, for Ngati-Whatua had none.



 

Eventually the Ngati-Whatua- Te Roroa alliance, incited thereto by chiefs Muru-paenga and Taoho, closed on their enemies with a rush, and during the melee, Pokaia of Ngapuhi, uncle to Hone Heke, received a deathblow from a mere at the hands of Taoho. Ngapuhi were panic-stricken at the death of their leader, and commenced to flee. At this juncture, Taoho directed Teke, an Uri-o-Hau chief, to get close up to the retreating Ngapuhi, and with his weapon, draw a deep line on the sandy beach, being the MARKING OF THE SANDS, beyond which none of the Ngati-Whatua taua were to pass in chase.

Ngapuhi lost some great chiefs, amongst whom were Pokaia (the leader), Te Waikeri, Tu-Karawa, Tohi, Hou-awe, Te Hau-moka and others. A great Rangitira was also killed, whilst the celebrated Hongi-Hika only escaped by his fleetness of foot. Ngapuhi later acknowledged that one hundred and fifty of their number were lost

.

Maning says three hundred, Carleton two hundred, and that one hundred and seventy heads were stuck up on poles of the five hundred that composed the Ngapuhi taua. Chief Taoho received a fairly severe wound to the mouth and neck in this battle, but survived.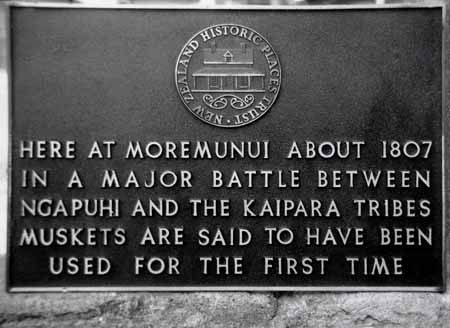 The memorial plaque at Moremo-nui, commemorating this battle twelve miles south of Maunganui Bluff on the beach of the West Coast. Although this battle took place at Moremo-nui, it is generally called "Te Kai-a-te-karoro" (the seagull's feast), because the dead were so numerous that they could not all be eaten by the victors, and hence were left for the seagulls.  Another name for it is "Te Haenga-o-te-one" (the marking of the sand), from the line drawn by Teke (of Uri-o-Hau) to stop the pursuit. (19th Century Maori Wars page 48)
Note: This event, called "Marking of the Sands" ("Te Haenga-o-te-one") is very important, as it is why Te Roroa, under Taoho, continued to live in exile on the Kaipara, until a delicate peace was negotiated in about 1824.  As a result of "asked-for" assistance by Taoho to chiefs Te Kairau and Te Kaha, who had been living at Maunganui Bluff. Taoho was allowed to return from exile and live eight miles south of Maunganui Bluff at Te Mamari. Chiefs Te Kairau and Te Kaha arranged for Taoho to meet safely with Hongi Hika at Kerikeri to negotiate a peaceful return from 20-years of exile. Taoho and his people, thereafter, were allowed to live as tolerated guests, under Parore's protection in the upper Kaihu Valley at Opanake, this being just before the battle of Ikaaranganui in 1825, wherein Hongi Hika's forces finally decimated Ngati Whatua.
Ngapuhi warriors returned home after this defeat, but two of their Western Ngapuhi chiefs, Te Kairau and Te Kaha remained steadfastly in place, as they had previously set up permanent residence at Maunganui Bluff as a forward guard position to any incursions up the West Coast by Ngati Whatua or Te Roroa. For several years thereafter there were raids back and forth, with Te Roroa forces coming north to do battle, but inevitably returning to the land of their exile in the Kaipara.


In 1808, Ngati-Whatua, emboldened by their victory ambush at Moremonui, ventured north to attack the

Ngati-Korokoro

settlement at Wai-o-te-marama, situated near Waimamaku. Hongi Hika was present at this battle, which was won by Ngati-Whatua. Ngati Korokoro did a reprisal attack on Ngati-Whatua in the same year.


In 1810 Ngati-Whatua came north again and attacked the Mahurehure division of Ngapuhi, killing many men in the process. It is said that the slaughter was so great on this occasion that he bodies of the fallen clogged the stream where the battle took place. In the process of returning home from this battle Ngati-Whatua came across unattended Ngati Korokoro canoes and stole them, then deceptively slaughtered the women and children occupants of the Opara village at the mouth of the Whirinaki River, who had thought their own menfolk were returning and had bid them welcome.



In about 1813, Hongi Hika attacked Whiria PA on the southern side of the Hokianga, where chief Tuohu (grandfather of Tiopia Kinaki) was ensconced. Hongi had a score to settle with Tuohu, who had helped devour Ngapuhi warriors after the battle of Moremonui. While Hongi was engaged in this battle, at which he was repulsed, he had left his PA (Pakinga) at Kaikohe undefended and Tuohu managed to sneak out undetected and lead raiders against Hongi's PA, while under siege himself, killing many of the defenceless women and children there at Pakinga. Hongi was unsuccessful at Whiria and, while returning home, received word that his own PA had been decimated in his absence.



Hongi Hika therefore returned immediately to Hokianga and was successful in overwhelming Te Tihi's PA in lower Waihou, killing Te Tihi himself with a horse pistol. This confrontation brought with it a cessation of Eastern Ngapuhi attacking Western Ngapuhi. It is well known that the killing of Te Tihi later led Eruera Patuone, his brother Tamati Waka Néné and Mohi Tawhai to support the Crown and negotiate the Treaty of Waitangi, then oppose Hone Heke's rebellion in 1845.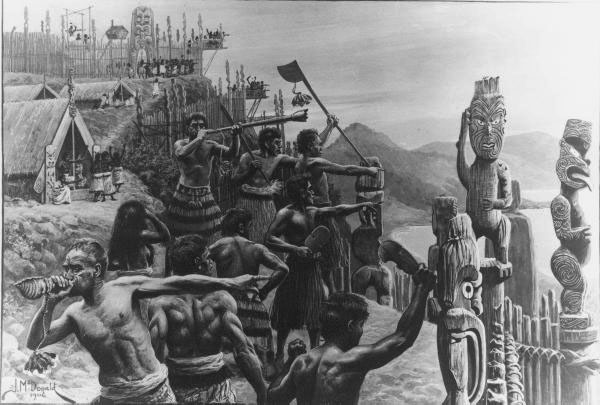 Maori defenders sound trumpets to alert their people of an imminent attack by the enemy. Picture by McDonald, James Ingram, 1865-1935 : Alarm in a Ma-ori pa 1906.

Immediately after the signing of the Treaty of Waitangi, the 444 land purchases by settlers from the Maori chiefs prior to 1840 were dealt with by the Old Land Claims Court between 1840 and about 1853 (Maori Deeds Of Old Private Land Purchases In New Zealand From The Year 1815 To 1840 - With Pre-emptive And Other Claims). In this incentive, the settlers lost over 90% of their pre-treaty holdings, which were returned to the former Maori owners and had to be repurchased.


During this time 1840 -1865 only Government designated representatives were permitted to buy land directly from the Maoris (Article II) but, as true ownership was not always definitively established first, many purchases had to be redone several times over. One group of Maori would sell their land, spend the money and then the Government would find that another relation or group actually owned the land and so were forced into repurchasing it. Some very slick Maori con artists duped the Government into buying the same block of land several times over. Kapiti Island was bought about five times-over or more. We have on record certificates and deeds showing that Taranaki Province was fully purchased at least five times. This constant deception on the part of Maori vendors caused tremendous difficulties for the government and settlers alike, through no fault of the settlers, as they had bought their land in good faith thinking it was legally titled. Land purchases were always fraught with danger, due to the constant ingredient of Maori trickery, to which the government agents became very aware, watchful and careful to avoid. Despite care and adherence to procedure, the purchasing agents continued to get duped and wily Tiopira Kinaki, who featured prominently in land sales of the 1870's, was a master at playing out this con game.


In 1865, after completion of the earlier pre-treaty investigations and readjustment of payment to the former Maori owners, the new Native Land Court was established to further clean up the mess and establish clean, clear titles before any land would be purchased by the Crown. Prior to any such purchase, land had to be fully surveyed by Government surveyors.


The express purpose of this Native Land Court was to determine, equitably, ownership of parcels proffered for sale. The land that Maori vendors wished to sell was, first, surveyed either provisionally as a beginning proposal for consideration or finally by government surveyors working under the jurisdiction of the Inspector of Surveys Department in compliance with the stringent laws and Acts in place. A rudimentary proposal could be initiated with a basic plan or outline idea that had been "compass surveyed" by privately engaged surveyors. Government surveys, however, later required the use of optical theodolites of sufficent size and fixes onto trig reference points.


Once a plan was made it would have to go before the Inspector of Surveys and an application would be made to the Court. If the plan was rejected or conflict arose for some reason, it would go to the Provincial Surveyor or Chief Surveyor and never be acted upon until all outstanding problems were resolved. Under such circumstances it had only been filed provisionally or as a proposal in its rudimentary stages.


Once a proposal was allowed to proceed to the next stage and passed by the Provincial Surveyor or Chief Surveyor it would be publicly advertised. Disputees to ownership were given the opportunity to state their claim before a judge in the Native Land Court. Once ownership was established on the plan before the Court in duplicate, the Judges would make their decision and, if that decision was not accepted unanimously between the disputants, the Court would go into recess until the disputants had come to a unanimous decision. This might entail some "wheeling and dealing" or "horse-trading" between the owners or part-owners. If they achieved agreement amongst themselves they could return to the Court and a clean title would be granted to them in duplicate.


If, thereafter, the Government wished to proceed with a purchase from the titled owner or owners, an agreed price would be reached and Deed of Sale executed in duplicate. Any reserves to be sectioned out for repurchase by the vendors or any amendments and conditions of purchase would be added, very clearly, to the Deed and plans.


The complete process would then be checked by the Frauds Commissioner and Native Minister. The sale to the Crown, with all boundaries described, was then made public via gazette notices in the newspaper and could thereafter be sectioned up for purchase by private individuals.


As stated if at any stage of the step-by-step process there was any lingering contention amongst those claiming ownership, this had to be sorted out between the owners prior to Crown purchase. Maori had the inbuilt provision to veto the ruling of the Native Land Court judge if they were in disagreement with the decision. It was then up to the owners to sort it out and reach trade-off agreements, leading to clear title being awarded to the owners. Only after clear title was established and awarded to the Maori owners could the Crown complete a purchase. Because of many years of difficulties and vexations, the rules were very strict and great care was exercised to side-step any potential problems caused by an oversight. The 1873 Native Land Act had 112 sections covering all contingencies. On the surveying side, The rules of Surveying, written by Theophilus Heale in 1871, applied very comprehensive, stringent practices that the surveying teams were obliged to work to. The 1873 Native Land Act encompassed the Surveying Rules as well and Percy Smith, Chief Surveyor and Deputy Inspector of Surveys, required strict adherence to them from 1871 onwards.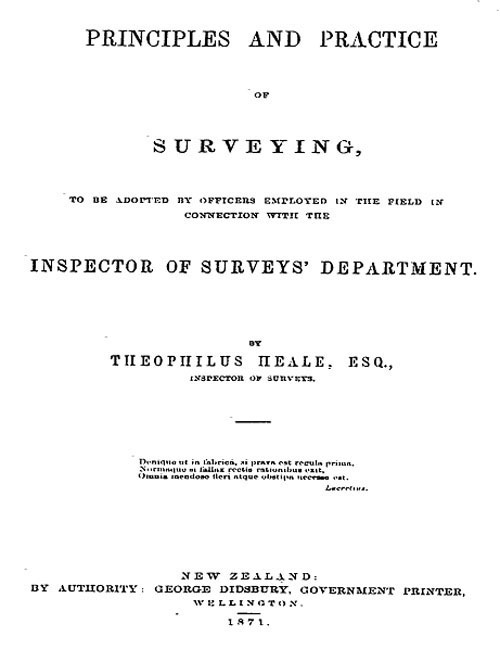 By the 1870's, as before, Maori were lining up to sell land, this time down the West Coast from the Hokianga to the Kaipara and government surveyors, purchasing agents and Native Land Court judges had their hands full trying to sort out the normally complex process of awarding legitimate owners with legal titles to their blocks. Long-standing experience, hard-won over thirty years, had taught the government that they must "dot all the i's and cross all the t's" utterly, as any unadressed or overlooked issues would inevitably come back to haunt them and cost them dearly. It was because of the unenviable position that the government most-oft found itself in, having to repurchases the same territory several times over, that the 1865 Native Land Court was established. By the 1870's, the carefully monitored, step-by-step process, leading to a completed sale and transfer of clear, undisputed title to the Crown, was subjected to stringent "rules of engagement" covering every stage, resulting in no unresolved issues, loose ends or any conceivable prospect of future problems and challenges.


Strict rules, applying to the transfer of land ownership from Maori to the Crown, had first been instituted in 1840 with Lieutenant Governor William Hobson's requirements of Article II of the Treaty of Waitangi. All land purchase titles or claims to settler ownership, prior to 1840, became null & void in the estimation of the Queen's government and subject to full review. The imposed restriction under the treaty , which forbade direct sales from Maori to European settlers, was reinforced by the Native Land Purchase Ordinance, 1846, which made it a criminal offence for a European to purchase such land or to be found in occupation of it. By section 73 of the Constitution Act, in 1852, the same prohibition was repeated; so also in section 75 of the Native Lands Act, 1865, section 87 of the Native Land Act, 1873, and subsequently continued in section 117 of the Native Land Court Act, 1894. From the outset of the colony, all land transfer had to proceed stage-by-stage through a carefully regulated process, stringently monitored and overseen by government officials. Some of the strictest practices related to surveying and the Survey's Department adhered to a step-by-step system. A raw proposal moved from being a rudimentary idea, through several stages of surveying refinements and official approval, to become a fully signed off, described and approved, precisely drawn and officially registered block plan.


In conjunction with the array of Acts devoted to establishing Native Customary Title and the careful processes of transforming them into Freehold Title, were additional built-in protections. In 1870 the first Native Lands Frauds Prevention Act was passed. This invalidated all alienation of Native land if (a) contrary to equity and good conscience; or (b) made in consideration of the supply of liquor, arms, or ammunition; or (c) such that sufficient land was not left for the support of the Native. Trust Commissioners were appointed, and no instrument of alienation was to be valid unless endorsed by a Commissioner with a certificate that the alienation was in accordance with this Act. This was in full compliance with Lord Normanby's brief or instructions to Captain William Hobson in 1839. By the Native Land Act, 1873, Native reserves were to be set apart and to be inalienable, without the consent of the Governor. In this incentive, every precaution was taken to protect Maori in compliance with Lord Normanby's 1839 instructions, wherein he wrote:
Nor is that all: they [the Maori people] must not be permitted to enter into any contracts in which they might be ignorant and unintentional authors of injuries to themselves. You will not, for example, purchase from them any territory the retention of which by them would be essential or highly conducive to their own comfort, safety, or subsistence. The acquisition of land by the Crown for the future settlement of British subjects must be confined to such districts as the natives can alienate without distress or serious inconvenience to themselves. To secure the observance of this - will be one of the first duties of their Official Protector.
Within the terms of the 1873 Native Land Act every instrument of alienation had to be explained to the Native by an interpreter, accompanied by a fully endorsed statement, describing its contents, in the Maori language.

By 1840, when the British Government was established in New Zealand, Te Roroa could make no claims to ownership of any territories based upon conquest, as they had been driven off their former lands of inheritance and possession and were now reduced to the lowly status of, what Ngapuhi elder Graham Rankin called, "squatters living on the fringes of the Waipoua Forest". They were also, disparagingly termed, "Ngapuhi's dogs", as they were living on the lands of Ngapuhi as tolerated pets.
Under the Maori system, they were a fully dispossessed people without mana, considered as "squatters". Through marriage into the owner tribes, they could gain access to an inheritance for their children, as Tiopira Kinaki did in marrying a woman of Ngaitu.
When the sale of large blocks down the West Coast to the Crown was instigated by Maori vendors, however, Te Roroa's very avaricious leader, Tiopira Kinaki, was quick to put his own name forward as a claimant for anything and everything he could grab, whether based upon pre-Treaty or post-Treaty, long-term or short-term"squatting" on the many lands of exile to which Te Roroa had been chased, shunted and hunted. What Te Roroa had not been able to hold onto or gain through fighting prowess, they would attempt to acquire through the Colonial Government's Native Land Courts and the British legal system, simply on the basis of having "been there". More than any other hapu, the long-term Te Roroa fugitives and refugees had been chased everywhere up and down the West Coast, fleeing to survive, and would now try to cash in on their long string of defeats, by claiming all of the refuges and sanctuaries where they had holed-up. By the 1880's, Tiopira and his followers had managed to acquire clear title on about 200,000 acres of land in multiple bogus claims. These illegitimately awarded titles he mostly sold to the Crown, but retained large reserves for himself at both the Waipoua and Waimamaku Blocks. Clearly, the biggest losers on the ground in the North became the biggest winners in the Native Land Courts. Tiopira's "squeaky wheel getting the oil" antics and that of others like him, caused an outcry from legitimate owners, who forwarded petitions for redress to Parliament.
Tiopira Kinaki sometimes initiated private surveys of land he didn't own. The record shows that he made a profession out of, deceitfully, trying to sell the lands of other tribes "out from under them" or "unbeknown to them" or tried to get his name on parts of any and every block in the region, stretching from Hokianga to the Kaipara. With British law having now replaced the former Maori conquest system, the very shrewd and money-grubbing Tiopira Kinaki found he could make overtures to the more accommodating and compliant, "third party", Colonial Government for the acquisition of rights that he did not have under the Maori system of winners and losers.
By the time of the signing of Treaty of Waitangi in 1840, he and his tribe were mere tenants on the lands of others and the recipients of their charity or toleration. By the mid 1870's, however, when land block sales down the West Coast above Dargaville were well underway, the old warrior structures were all but gone and Tiopira could appeal for full titles or part-ownership based solely upon "occupation" without fear of reprisal from his hapu's conquerors, who were the true owners. A lot of water had gone under the bridge and his world was a very different place to that of his grandfathers.
Tiopira Kinaki was very adept at working the "all-too-accomodating" British legal system, which was duty-bound to honour Lord Normanby's brief to Hobson for the protection of all Maoris. Since 1840 many "would-be" humane Acts, protective policies & measures had emanated from Normanby's original foundation instructions. By the 1880's, however, this "all-too-accomodating" approach by the colonial government brought the Native Land Courts into derision and heavy criticism from Ngapuhi and others, for awarding titles to illegitimate claimants like Te Roroa.
Ngapuhi well knew their lands of possession, which they clearly described in song or chants and had gained by "occupation, ancestry and conquest". These three foundation factors were supposed to be the determining criteria upon which the various Land Courts made ownership decisions, when awarding Maori titles from 1840 onwards. What had happened prior to 1840 was none of the colonial government's business or concern and they merely exercised their mandate to govern based upon existing circumstances from February 6th 1840 onwards, after Ngapuhi held lands were ceded in sovereignty to Queen Victoria.
Of these combined, defining and foundation criteria of "occupation, ancestry and conquest". Te Roroa could never adequately satisfy more than one condition in the forty-five years before 1840, which was their spasmodic and temporary "occupation" of lands owned by others. After their return from exile in 1825, this "occupation" was predominantly within the territories fully owned by Ngapuhi chief, Parore Te Awha. With the departure of Te Kaha and Te Kairau from Maunganui Bluff around 1825, Ngapuhi chief Matui Parore took full control of lands from the Waipoua Forest to Te Papa at Kaipara and Te Roroa hapu, once permitted to come out of exile by chief Hongi Hika, became "squatters" on Parore's lands (See: The Kaipara Minute Book No. 3). The historical record is very clear on this point.
Between 1880 and 1890, alone, Maoris presented over a thousand petitions to Parliament (AJHR 1891, G1 pg. xi.) without avail, to sort out fraudulent use of the Native Land Courts to perpetuate the awarding of bogus titles to people like Tiopira Kinaki. An 1888 newspaper account states:
LANDS BILL SCORNED BY MAORIS
Kihikihi Saturday
Mr. Ballance's Land Bill of this session, so far as its provisions are known, is not more acceptable to the natives as that of last year. It is the working of the Native Lands Courts that they are disgusted with, such cases as those at which Sir Robert Stout's Bill points at and others where the real owners have been deprived of their land altogether. Another great cause of discontent is the case with which bogus claims are admitted; and that in some cases where the claims are admitted, and that in some cases where the names of certain natives have been rejected by the court, the names of those natives have been put into the certificates afterwards. It is the administration of these Courts that they object to as altogether unsatisfactory, but on Mr. Ballance's Native Committees the look with even greater distrust. They would far sooner trust the judgement of a European than a Maori tribunal. In no case can it be said that Mr. Ballance has met their wants or removed the objections of the natives which stand in the way of a settlement to the land question satisfactory to both races - June 7 1888.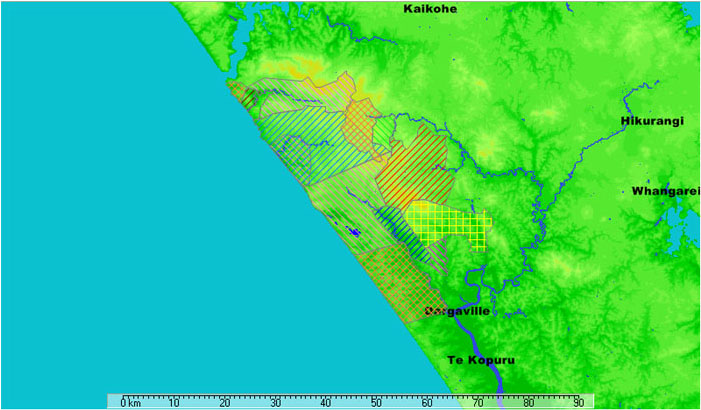 Just some of the block sales down the north-western coast, several of which Tiopira Kinaki managed to get full or partial ownership of. In the end he accrued over 200,000 acres for himself and his hapu. He was awarded parts of several more huge blocks, to which Te Roroa had fled to escape Ngapuhi, not shown. The biggest losers in the northern wars became the biggest winners in the Native Land Court.
The leniency or duplicity of Native Land Courts provided Tiopira Kinaki with a means to get his finger in the pie for several of the following blocks and others:
1870... Wairau Block... plan 2012... comprising 1129 acres for the Southern Wairau and 1410 acres for the North... total area 2539 acres...dealt with on the 10th of October 1870.
1870...Waiwhatawhata Block... plan 2013... comprising 2114 acres...dealt with on October 10th (?) 1870.
1870... Waimamaku Block.. plan 2014... comprising 2650 acres...dealt with 10th of October 1870.
1871... Kaihu Block ... plan 1946... comprising... 41075 acres...dealt with 1871.
1874... Waoku Block No. 1. ...plan 3092...comprising 17650 acres...dealt with on the 28th of April 1875 based upon a plan by R.T. Davis from 1874.
1874... Opanake Block ... plan 3046A...comprising 14457 acres...dealt with on 9th of December 1873... approved by Heale ...dealt with by Judge Rogan, 4th of June 1874.
1875... Waoku No 2...plan 3248... comprising 8017 acres ... dealt with on the 28th of April 1875... awarded to Heta Te Haara and Wiremu Pou.
1875...Waimamaku Block... plan 3278A... comprising 27200 acres... compiled in the survey office ... last plan done by Mr. Kensington on the 21st of February 1875.
1875... Omu Block... plan 3202... comprising 3147 acres and lying on the Northern Wairoa River between Ounwhao and Waiaruhe Blocks... dealt with on the 27th of March 1875.
1875... Waipoua Block Plan 3277A comprising (originally) 12153 acres for Waipoua No. 2 but later amended to be 12220 acres... and Waipoua No. 1.. plan 3277.... comprising 41181 acres but amended to be 35300 acres with the removal of Wi Pou's land from the plan. An earlier plan was 3232 for Waipoua 1...dealt with on the 15th of May 1875. Awarded to Tiopira Kinaki and Hapakuku Moetara who also inherited all of Waipoua 2 as a reserve.
1875... Waimata Block ... plan 3199... comprising 5699 acres... dealt with on the 19th of May 1875 ...claimants were Parore Te Awha from the Te Kuhi hapu of Ngapuhi and his servant lady, Ani Patene of the Te Taou hapu of Ngati Whatua.
1875... Karara Block... plan 30671... comprising 30671 when first surveyed but later amended to be 27700 acres... dealt with on the 22nd of May 1875. The sole claimant (representing many) was Kamariera Te Wharepapa. The plan was certified by Barnard on the 8th of May 1875.
1875... Punakitere Block... plan 3270... comprising 7959 acres... dealt with on the 12th of June 1875. Awarded to Western Ngapuhi.
1875... Ounwhao Block... plan 3200... comprising 8190 acres... dealt with before the court on the 27th of May 1875.
1875... Opouteke Block... plan 3214... comprising 43622 acres... but amended to 42000 acres when a reserve was cut out. Approved subject to corrections on the 13th of May 1975, but was dealt with in the court on May 22nd 1875.
1875... Pakanae Block 1... plan 3267... comprising 3189 acres and Pakanae Block 2... comprising 8955 acres ... dealt with on the 18th of June 1875. Both of these join to the Waimamaku block and were awarded to Ngapuhi.
1875... Waimamaku Block... plan 3278 before 3278A...claimants were Tiopira Kinaki, Hapakuku Moetara and Te Rore Taoho. The map plan was based upon the survey of H&D Wilson, drawn up on July 14th 1875 and comprising 24500 acres... minus Wairau native reserve. The government had purchased 27200 acres... dealt with on the 21st of December 1875.
1876... Kaihu No. 2 Block... plan 3509... comprising 11666 acres...dealt with on the 14th of August 1876.
1879... Aoroa Block...plan 3756... comprising 13850 acres...dealt with on the 8th of May 1879.
SO WHAT REALLY HAPPENED AT WAIPOUA AND MAUNGANUI BLOCK SALES?
The circumstances of what transpired in the cases of the Waipoua and Maunganui Blocks are very well documented and should be beyond dispute. Because of Tiopira's usual tactics of attempting to raise the ante so that he could "milk" the block sales, he caused disputes that had to be settled in the Land Courts or by comprehensive Parliamentary enquiry. This led to large files of testimony from the purchasing agents and others involved, which have survived intact since their creation in 1876. The documents could not be more clear in the account that they give. Each of the following statements can be fully substantiated by comprehensive documentation on file in our archives:
!n the 1870's, Chief Parore Te Awha was living on his estate at Kaihu Valley (Dargaville). He was, by now, an elderly man and very well known as the chief of the district. Tiopira Kinaki, who was relatively unknown, had been in residence at Parore Te Awha's Waipoua Forest settlement with his hapu since about 1856 and were the remnants of Te Roroa people allowed, by Hongi Hika, to come out of exile and live as squatters on Parore's land.

At the beginning of October 1874, word came to Chief Parore Te Awha, that Tiopira Kinaki of Te Roroa, along with traditional allies, Ngatiwhatua and Uriohau, had deceitfully taken large deposits from purchasing agents for the sale of Parore Te Awha's land extending from the Waipoua Forest to south of Maunganui Bluff. Also Wi Pou who held a legitimate claim to lands to the eastern side of the Waipoua Forest and who had become allied with Tiopira Kinaki, engaged the government surveyors, Barnard and Stephens to do a "private survey" of the areas just south of the Bluff on Parore's land. The location in question was where

Ngapuhi chiefs Te Kaha and Te Kairua had maintained their forward base camps during the era of the Musket Wars until 1825. Once Hongi Hika had decimated Ngati Whatua and reduced their numbers down to a little over 200 survivors in the battle of

Ikaaranganui

of 1825, these Ngapuhi chiefs had moved back to Kaikohe. Parore reassumed full control of the whole region thereafter. Fifty years later, in 1875, Wi Pou's hapu, composed of about forty individuals, wished to create for themselves two reserves there on the south side of the bluff, between the sea and a small lake, and would call the reserves Manuwhetai and Whangai-ariki. Parore Te Awha was enraged by this attempted theft and complained to the government that 'Tiopira Kinaki has sold his [Parore's] land called Maunganui to the Govt in a clandestine manner'. (See Record 74/5815, Parore's letter to Brissenden, sent on October 6th 1874 and received on October 27th 1874).


There can be no dispute regarding Te Awha's long-term possession of this land, based upon "occupation, ancestry and conquest". This renewed attempt by Te Roroa to claim the traditional land of Ngapuhi, was merely a duplication of Taoho's failed 1805 attempt to steal the same territory from Parore Te Awha's father, who subsequently cut down Taoho's rahui or boundary marker and told him, under no uncertain terms, that Te Roroa hapu had no possession of land there. Shortly after that 1805 incident, Te Roroa were vanquished from the entire region and found themselves in full retreat from the warriors of Pokaia. Thereafter they were forced to endure the indignity of almost twenty years in ever-present dangerous exile near Tokatoka and the Kaipara Harbour.


J.W. Preece said in his 12th February 1876 report to the Under Secretary, Native Office: 'It will be remembered that with regard to the first two blocks, namely Waipoua and Maunganui, a very sore dispute has existed for some time between the old chief Parore Te Awha, supported by Te Tirarau and the Ngapuhi on the one part and Tiopira Kinaki (a man comparatively unknown outside his own tribe, the Roroa) supported by Ngatiwhatua and Uriohau tribes on the other part.' Preece went on to state: The Agents...having entirely ignored the rights of Parore and his people, caused so strong an opposition on his part to the survey and sale of the land that at one time there seemed to be every probability of hostilities between the tribes breaking out'.


At this time, some government surveyors were engaged in ground survey of the coastline tracts above Dargaville, extending to the Hokianga Harbour and overland eastward the Tutamoe Range. Surveyors, Barnard and Stephens were working at Tutamoe and the Wilson brothers were doing a ground survey down the coast. All were working in with local natives, who were telling them where the tribal boundaries lay. At the same time, Percy Smith and others were doing the much larger triangulation survey, which was tied to the Auckland trig at Mt. Eden. Eventually, the ground survey plans for the individual blocks could be tied to the much larger triangulation survey and refined for accuracy.


There was nothing to stop the natives from hiring surveyors to do private work for them, in anticipation of making application for title of a reserve within a larger block plan. The Tiopira Kinaki and Wi Pou confederation engaged Barnard and Stephens, in a private capacity, to do a rough compass survey of the two reserves and establish approximate boundaries. This preliminary compass plan could serve as the beginning point of a proposal, which, when put through several further stages of both surveying and Land Court scrutiny, might result in a title being awarded.


In accordance with the 1873 Act, which complied with Theophillus Heale's, Principles And Practices Of Surveying To Be Adopted By Officials Employed In The Field In Connection With The Inspector Of Surveys' Department, dating to 1871, it is impossible for the Manuwhetai and Whangai-arki reserve proposals to have achieved any official status. Block survey's proceeded in stages of official recognition, according to stringent rules that the government surveying teams were obliged to comply with. Government surveyors, working to the published rules outlined in the 1871 publication, undertook the large area triangulation and geodesic survey for the Waipoua/ Maunganui blocks just prior to 1876. At the termination of the official survey and the completion of a formal deed of sale arrangement, title was passed from the Maori vendors to the Crown. Under the strict criteria in place, it was impossible for the former Manuwhetai and Whangaiarki reserve proposals, based upon a rough compass survey, to advance any further, other than to be received and acknowledged provisionally. A Crown grant, unless acted on via a full and proper application for title to the Native Land Court, could never advance any further. No such application was ever officially lodged, nor was there any proper geodetic survey completed to legitimise such a grant.

Some extracts from Principles and Practice of Surveying

(Page 7 & 8) 'It necessarily involves the absolute abandonment of all compass bearings, and of all unconnected surveys. Since surveys of any considerable extent must approach two or more trig stations, nothing is easier, when it is desired to check such section survey, than to ascertain independently the true relative position of two or more points at the opposite sides of it, and from their discrepancy with the triangulation, any errors of measurement or angularity can be determined; and the work can then, after rectification if necessary, be laid down on the general maps constructed from the triangulation, with a certainty of its truth, within a limit of error quite inappreciable on maps of ordinary scale.

Theophilus Heale goes on to state: Since the subdivision of land without previous triangulation, and by compass bearings, is so rude and uncertain a process that it can hardly properly be called surveying, as it will certainly not fall under the definition here given; and since, when the whole area has to be divided into small sections, this miserable makeshift actually involves a far larger expenditure of time and money than to triangulate and survey the land properly, no rules or instructions are laid down for its performance, which I would altogether deprecate and oppose. And if, from circumstances arising out of the operation of the Native Lands Act, it should still occasionally be necessary to admit such unconnected sketches for the purpose of the investigation of titles, they ought to be received only provisionally, and to be subject to revision whenever the major survey is advanced to embrace them, and then only, to be available as the foundation for Crown Grants'. [Emphasis added to show the true status of the Manawheti and Whangai-ariki "reserves proposal" and how it did not meet or achieve even minimum surveying requirements of the government].

For a survey of this type to achieve any further official status, it would have had to be conducted under a formal pre-arrangement, via application and government instructions using the services of government employed surveyors assigned the task. The surveyors in question would have had to use an optical theodolite of sufficient size (ten inches) and the completed survey based on proper geodetic methods, in accordance with the rules, using set trigs and triangulations to accurately determine azimuth angles, exact positions and size of allotments. However, because no binding, prearranged agreement was ever formally entered into between the government and the Maori owners for a Crown grant, the earlier proposal became null and void.
The dignified old Ngapuhi chief, Parore Te Awha, was enraged by this attempted theft of his land and required that all surveyors, government or private, get out immediately. He said to the government 'that the survey should not be carried through, if the surveyors were to persist that they would be sent back by guns'.
On the 21st of February 1875, Parore wrote to Sir Donald McLean stating:
Friend greeting,
I have a word to you about Maunganui and Waipoua and up to the top is mine and it has been surveyed and I then went direct to Maunganui and I then wrote direct to the surveyor and stated that the survey should stop at Waikara [2.7 miles or 4.3 kilometres north of Maunganui Bluff summit].
Hone Mohi Tawhi took my letter to the Surveyor Mr Wilson [A government surveyor being guided through the district by Tiopira Kinaki]. The Pakehas would not listen to stop at Waikara. I then returned to the Wairoa and Mr Preece said to me the word to me was that I was to desist from going to Maunganui. I then said I will not desist from going, for if I do, but if it (the survey) stops at Waikara, I will not go back.
Then Mr Preece said to me if Waikara is left behind it will be wrong. It was then I said my slow word (I reluctantly said) let the matter be settled in the manner of our ancestors and fathers. Then Mr Graham said let it be left for the law to look into[W.A. Graham was Parore's Surveyor] - Enough I will return there only once more and that will be the end.
That is why I write to you. My land has all been surveyed. My word was that the land be divided at Waikara. Enough the matter rests with the administration of the law when an application is made for Maunganui, Waikara, Te Paku, Paketotara, Waima, Mangatu, Waitomi, Te Waokupu to the line of Pira, thence to the line of the timber (land) sold to Mr Monk - thence to the peg of Mr Monk's line at Ritoatehe, the line of Mr Monk's timber Paketi Te Kawa kapake te peke o te Reti to the peg of the land leased for flax, thence to te takahanga. [Parore here gives the boundaries of what was to become the Maunganui block].
These are the names of my pieces which are all taken by the Roroa one is Te Uruti [South of the Bluff below the Waihoupai Stream] Te Kapoai is another, Te Waipohuta kawa is another, Waihopai [River to the South of Maunganui Bluff where the entrance met the sea on the edge of Manuwhetai], Te Patapata [Western wall of Maunganui Bluff].
Enough this is the end of the names of my pieces. [referring to the coastal boundary of what became the Maunganui Block where Manuwhetai and Whangaiariki lay] If the law is strong enough to divide them it is well.
Friend Sir Donald McLean my heart is crying towards the law namely towards you. If my land is divided by the law it will be right. If it is not divided I shall be forced into the ways of the ancestor and fathers. If my letter reaches you reply to it. Enough I have finished, from your true friend Parore te Awha. (Wai Doc Bank: 000389A-000391).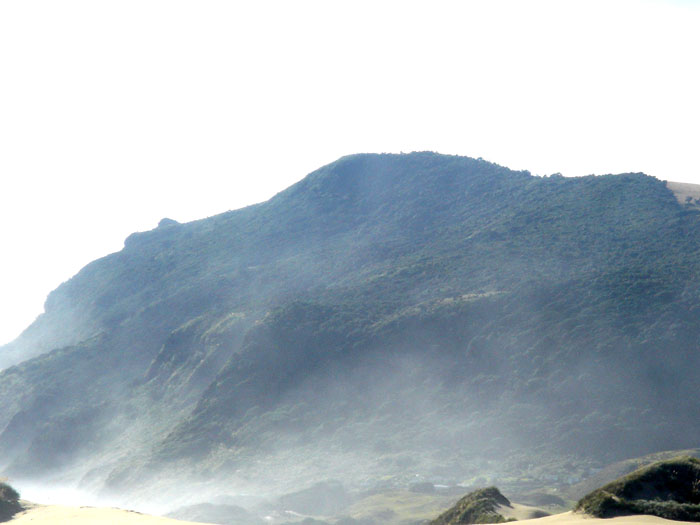 The terrain at the base of Maunganui Bluff's southern side, bordering the sea, being the location of present day Aranga township, was where Wi Pou, Tiopira Kinaki and others of the confederation envisioned having their Manuwhetai reserve, if they could wrestle the location out of the ownership of chief Parore Te Awha.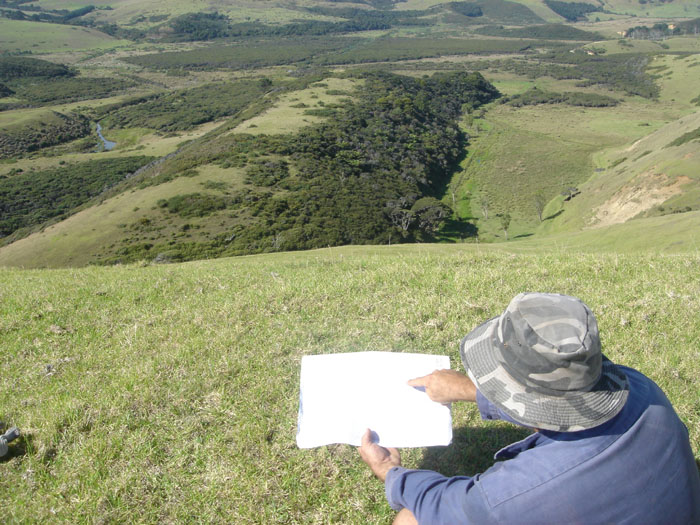 Dispossessed farmer and victim of a false, modern-day land claim, Allan Titford, points to the map location of Wi Pou's proposed Whangai-ariki reserve, just south of Maunganui Bluff. In the immediate background is the remains of the PA of chiefs Te Kaha and Te Kairua. It acted as a forward position for Ngapuhi to protect their lands from their enemies, Te Roroa and their Uriohau and Ngati Whatua allies, from 1806 to 1825. After that time, Hongi Hika totally decimated Ngati Whatua. A year before that Te Roroa, under Taoho, foresaw their impending doom and abandoned the fight. Taoho, with the assistance of Te Kaha and Te Kairua, pleaded with Hongi for the right to come out of exile and live in safety in Ngapuhi territory under Parore's protection. This was granted and the defeated Te Roroa exiles were given sanctuary as squatters.
In Parore's opening remarks within his letter, he mentions Maunganui and Waipoua then states: and up to the top is mine and it has been surveyed. In this instance he is obviously referring to the fact that Waipoua block belongs to him. He's also referring to the fact that the government's ground survey of Parore's Waipoua block has proceeded down the coast from the north and is nearing Maunganui Bluff, which area has not been surveyed yet. Having found out that others are claiming all manner of pieces and parcels of his traditional lands from the top of Waipoua block to south of Maunganui Bluff, Parore Te Awha frantically wants all surveying to stop. In a much later statement by Henry Tacy Kemp, given while reviewing events after the Waipoua and Maunganui Block sales to the Crown were completed, Kemp states: 'and it was with some difficulty that we could persuade Parore to agree to this, when it is borne in mind that Waipoua itself was, for very many years, the favourite residence of Parore...' His tenure on this Waipoua-to-Maunganui-to-Kaihu land, or that of his parents and grandparents before him, could not be disputed. As for Tiopira Kinaki and his Te Roroa hapu, however, they'd been living at the Waipoua settlement for about 18-years when they laid claim to it, took deposits for it from purchasing Agents and tried to sell it "clandestinely" out from under Parore Te Awha, paramount chief of the district.


Preece stated: I was at this time working as a private Agent, and advised Parore to permit the survey to continue, and trust his claim to title to the Native Lands Court, where he would be sure to secure his rights, whether the land was surveyed by the other claimants or not; to which he, after considerable hesitation, consented, and has since then patiently awaited the result of the decision of the Court: at the same time he has refrained from taking any deposit, or committing himself in any way as to the sale of the land. Here Preece is differentiating between the large scale ground survey of entire blocks, being conducted by the Wilson brothers, in behalf of the government, but makes reference to the private surveys of Barnard and Stephens to mark out reserves for Wi Pou and others within Tiopira's confederation, which they intended to "buy back" after the large blocks were sold to the Crown. At this juncture, there is no indication that Parore Te Awha was prepared to sell any of his land at Maunganui Bluff, extending from the Waikara Stream, 2.7-miles north of the Bluff, going southward to the Kaiiwi Lakes.


J.W. Preece also wrote: At the time Parore, on my advice, desisted from taking active measures to forcibly stop the survey, and consented himself by asking the government to stop it, instructions to which effect were given to the Hon. the Native Minister, which however, did not reach the surveyors until the work was done. In this, Preece is giving an account of how the government's ground survey down the coast, to create a combined block plan incorporating the entire Waipoua and Maunganui areas of the coast, was substantiality completed by the Wilson brothers before the Native Minister had time to instruct them to stop. Other correspondence, however, shows that they were unable to fully complete the work and had stopped at the Waikara Stream, as required by Parore Te Awha.


On the 4th of March 1875, the Inspector of Surveys, Theophilus Heale wrote: I have the honour to inform you that during the survey of the large Waipoua Block lying between Hokianga and the Kaihu Block, a serious dispute arose as to boundaries, between Tiopira & party on the one side and Parore (Ngapuhi) of Kaihu and on the other. The disputed position lies at Maunganui Bluff. Finding that this dispute was likely to lead to a breach of the peace between the two parties, I requested the Messrs. Wilson to discontinue the survey which has been done.
The question now rises as to whether the Block cannot be adjudicated upon in the present state of the survey.
The whole of the boundaries are surveyed with the exception of that portion of the coast lying between the north boundary of Kaihu Block and a little stream immediately to the north of the Bluff. The extremities of Messrs. Wilson survey are (or will be) corrected with the Triangulation and it is quite possible to sketch in the intermediate coast line from the Trig Stns as with the exception of the Bluff itself the coast is a perfectly straight line...
As it is important to get the question of the title to Maunganui settled, seeing that it has been in dispute between these two hapus for many years past and is a matter that is always later to crop up again. I submit that such a sketch survey, should be accepted and if not declared sufficiently accurate for further purposes, that the remaining piece of coast line should be surveyed when the title has been definitely settled. Then the purpose of enabling Messrs. Wilson to complete their map. It becomes more than ever necessary that a preliminary calculation of the Triangles should be made at once. Heale is here stating that the survey is incomplete from the Waikara Stream, southward to the Kaihu Block and that only preliminary sketch plans, of insufficient accuracy, can be created concerning Parore Te Awha's land. No more surveying could be done until ownership of Maunganui Bluff, and land lying to its immediate south, was decided by the Land Court and amongst contending parties.


Heale's comments were reiterated by Sir Donald McLean on the 18th of March 1875 in his letter to Mr Brissenden: Sir, I have the honour to inform you that the Government have received a letter from Parore, complaining of the survey of the Maunganui block. The Government do not wish the survey of any land to be proceeded with in the face of such opposition as there appears to be in this case. You will, therefore, on receipt of this letter, without delay instruct the surveyors to withdraw from the block, and will, until the dispute is satisfactory settled among the Natives, suspend the negotiations for the purchase of the same.


This and other correspondence tells us very clearly that, once Parore Te Awha complained and threatened to "return to the old ways" to stop this attempt by the Tiopira Kinaki led confederation to steal his land, the government also stopped all of its surveying and purchase negotiations with any and all parties. Some private purchasing agents, in their ignorance of regional history, had been conned into believing that Tiopira Kinaki owned tracts that, in fact, weren't his. They had stupidly and prematurely advanced substantial deposits to the "squatter-guest" for the purchase of those lands but now, for the first time, were coming face to face with the dismal reality that neither Tiopira nor his confederation of allies, necessarily owned those lands. Everything went into an immediate state of abeyance and the government backed right off, pending decisions arrived at by the Land Court. Any earlier private surveys undertaken and paid for by Tiopira, Wi Pou or others, for the cutting out of proposed reserves to the south side of Maunganui Bluff, would become null and void and meaningless if the Maunganui Block was awarded to Parore Te Awha. The proposed reserves of Manuwheti and Whangai-ariki were never initiated by Parore, but by individuals he perceived as enemies, who were trying to steal his land. The proposed reserves and general encroachments into Parore's land had been a very grave insult to him, especially after years of harbouring and protecting the Te Roroa fugitives, who had now proven to be treacherous ingrates. If the Land Court decision went in Parore's favour, the earlier proposals for "reserves" south of the Bluff would become utterly meaningless. Parore would then have the opportunity to nominate any terms and conditions he liked in his dealings with the Crown, including choosing a plot within his holdings for a reserve location of his own choice. The rest of his block could be sold to the Crown, if that's what Parore decided he wanted to do.


From October 1874 and May 1875, the bitterness between contending parties continued. In about January 1875 Tiopira Kinaki intimated that Parore Te Awha was going to lie in wait and shoot him. Several attempts were undertaken to hold Land Court hearings leading up until May and the hearing concerning the Waipoua and Maunganui blocks was finally scheduled for May 19th. J.W. Preece gives an account of the fiasco that ensued, with Tiopira's heavy handed tactics of arriving at Court with a drunken, armed mob, as well as other problems that led to the hearing being forcibly cancelled:
Preece wrote: 'In the first place the weather was so extremely bad that it was impossible to get an open air meeting to enable them to discuss the matter thoroughly.
Secondly, Parore was and still is so very unwell and utterly unable to advocate his own case, yet at the same time was very determined not to be talked down by the opposite party. Tiopira offered what I think very fair terms to Parore and I strongly advised him to accept them, but the old man was on his dignity. He stated that they had sold the land without consulting him, that they had taken five hundred pounds deposit on it which they had denied when he first charged them with it, that they had afterwards persisted with the survey of it in spite of his protestations and to finish all they had come to Court the greater number of them armed with guns.
Knowing there was a great deal of truth in what he said, and considering the state of his health I did not press him to come to terms with them, particularly as the plan before the Court only contained about half of the estate in dispute, the other half being surveyed off and advertised to be heard at Hokianga under the name Waipoua, this I did not know until I arrived here as the plan was only sent in by the Surveyor at the last moment.
With regard to the Uriohau and Ngatiwhatua bringing guns I felt that, although I do not for a moment suppose that they could have attempted to use them, yet it was sufficient cause even if Parore had been well to have the case adjourned. Preece mentions that the armed mob were assembled 'a few hundred yards down the river' and that 'they were drinking there to a large extent'.
J.W. Preece went on to state: 'Parore has written a letter to Judge Monro asking him to adjourn the Waipoua Block being a part of the same tribal estate as Maunganui and to have the two cases heard together here next summer. I shall support his application for an adjournment for I feel complications will arise unless the two blocks are heard at the same time, and it is impossible for Parore and Tirarau [Paramount chief of Ngapuhi] to attend the Hokianga Court'.
It was unknown to the surveyors what outcome of the court case would be, but they dutifully assembled whatever materials they had on hand in order to provide sketch maps or proposals related to the lands in dispute. Everything was now at a stalemate, with no possibility to complete either the ground survey or the larger triangulation survey over the disputed territory until the outcome of the court case was known. The court was not going to sit until the summer of 1876. A tracing of Barnard and Stephen's rough compass plan, relating to Wi Pou's idea of establishing reserves called Manuwhetai and Whangai-ariki, was forwarded in to the Surveying office as a proposal. It was then copied into the records at the Auckland Office of the Inspector of Surveys, Theophilus Heale.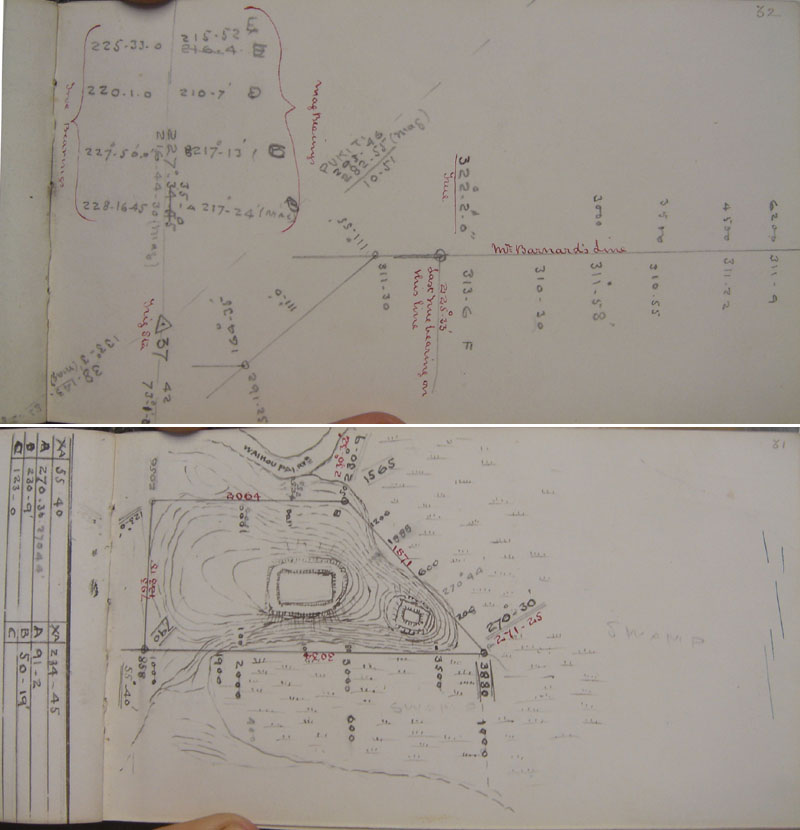 In 1874, Wi Pou of Ngaitu had paid private surveyors, Barnard and Stephens, to do a compass plan of his proposed reserves to the southern side of Maunganui Bluff. He wished to call these reserves Manuwhetai and Whangai-ariki. Whether or not the reserves idea went ahead and moved, in official status, from a proposal to an accurate theodolite survey tied to trigs, then onward to the further stage of awarded title, would depend on the outcome of the Land Court hearing scheduled for February 1876. Tracings of the sketch plans of Barnard and Stephens were sent to the Surveying office by mid 1875 and, thereafter, were copied into Field Book 13 in pencil. Corrective notations were later added in red pen, as best as could be done considering the scant and inaccurate information available. One added red pen notation reads, Mr. Barnard's line. Much of the recopied pencil sketching on both the Manuwhetai and Whangai-ariki plans was later overdrawn in black ink for greater clarity.
In the field, the surveyors used only "lick" pencils and never permanent ink that could not be erased for corrections and adjustments to lines. Field Book 13 was a "bitsa" book, incorporating the work of a variety of surveyors. It's assigned owner was Frank Stephenson Smith, who worked in very closely with his older brother and senior surveyor, S. Percy Smith, doing the major triangulation of the North Island. For over seventeen months, from October 1874 until February 1876, no government employed surveyors were permitted to set foot upon the Maunganui Block. Some semblance of a plan for the two reserves had to be completed from the submitted tracings, however, as they might be needed in evidence when the Native Land Court sat to hear the case and the claims of all parties.
In the interim period, while awaiting the Land Court sitting to determine the legal owners of the Waipoua and Manganui Blocks, surveying staff, not knowing what the court would require from disputants on both sides, drew up a single large plan, showing as accurately as possible, Wi Pou's two proposed reserves. His proposed Manuwheti reserve was designated No. 3297 and his proposed Whangai-ariki reserve was designated No. 3298.
At this stage, the plan was only a very rudimentary and inaccurate proposal, based upon Wi Pou's earlier engagement of private surveyors to rough out his proposal.
Although no government surveyors had been permitted to enter the areas shown, due to an interdiction imposed by Parore Te Awha, surveying staff prepared some provisional materials pending outcome of the court case, which was unknown at that time and would remain so for a further 5-months. In the final analysis the case went against Wi Pou and his entourage and their proposal for reserves to the south side of Maunganui Bluff became null & void.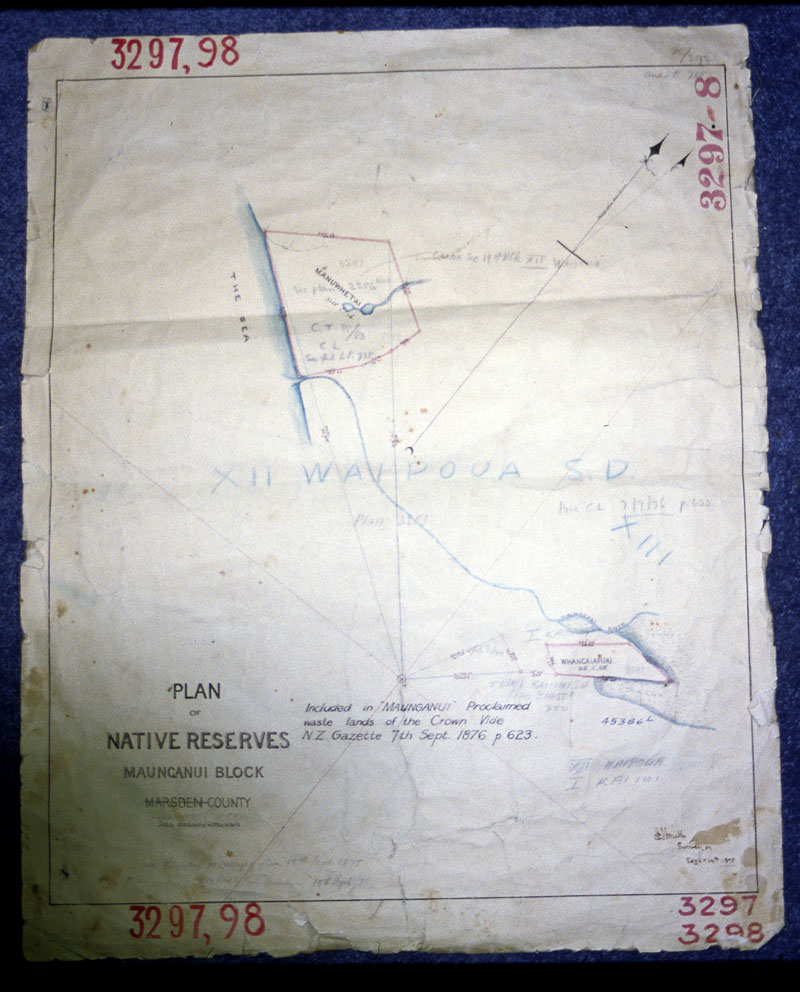 The large provisional plan, drawn, on the 14th of September 1875, from Wi Pou's earlier private survey sketch. From October 1874 until after the Land Court determined that Parore Te Awha would retain full possession of the Maunganui Block, no surveying by government surveyors was permitted within the boundaries of the Maunganui Block. The Judge's decision to award the entirety of Maunganui Block to Parore was delivered just before the 3rd of February 1876. By that time government surveyors had been forbidden to work there for over a year and the above plan had to be created from pre-1875 sketch plans forwarded by private surveyors. After the Crown purchased the Maunganui Block from Parore, other notations were added to the above plan and the Manuwhetai - Whangai-anriki reserves proposals became officially null & void, as Parore Te Awha sold those areas outright to the Crown, which was his unchallenged right at that juncture. In relation to the reserve proposals, one official notation was added which said: Included in Maunganui. Declared waste lands of the Crown. Vide NZ Gazette 7th September 1876 p 623.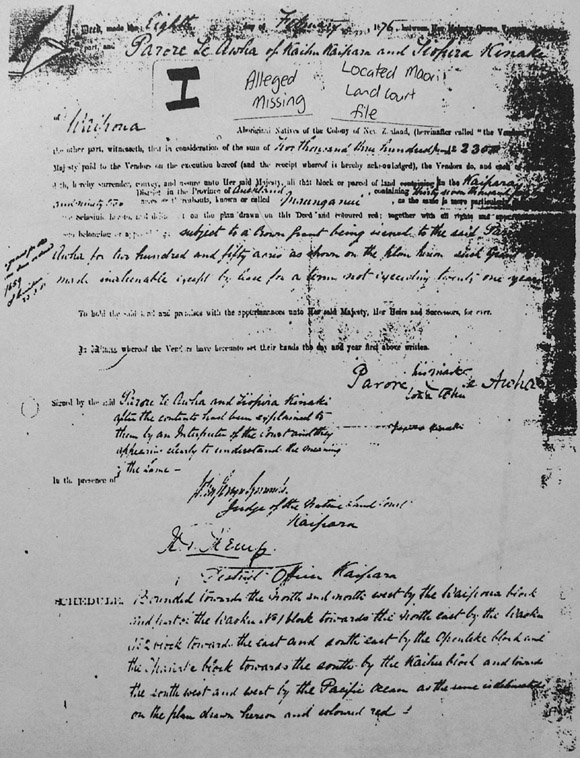 Here is the photocopy of the Deed that Allan Titford was able to make in Tom Parore's office. The final title deed awards Maunganui Block to Parore Te Awha, with Tiopira Kinaki's name also appearing on the Deed as per a pre-arranged agreement. Parore Te Awha's name also appeared on Tiopira's Waipoua Block Deed as per a pre-arranged agreement. All Maunganui Block ownership was awarded to Parore and all Waipoua Block ownership was awarded to Tiopira. Parore Te Awha had full and sole entitlement to sell or retain any and all of the Maunganui Block after the Native Land Court's final decisions related to the Maunganui and Waipoua Blocks.
The original of this deed was sent under orders of Sam Brown, (Head of Lands and Survey and related to the Nathan cabal claimants) to Tom Parore (Head of the Land Court, Whangarei and claimant). Although it and the rest of the file had lasted for over a century when delivered to Tom Parore and was seen in his office by Allan Titford who photocopied the above image, it and the rest of the Maunganui file was "alleged missing"* when it was required to be viewed by the Waitangi Tribunal. Because so many of the "original documents" were missing and there was a dearth of evidence, the benefit of the doubt went in favour of the Nathan cabal and the Titfords were stripped of their farm and assets. In any and all earlier investigations, it was decided that the Crown had no case to answer, as the complete dossier of documents was intact and proved legitimate purchase from Parore Te Awha.
*Footnote: During the period of Waitangi Tribunal hearings relative to this case, dispossessed farmers Allan Titford and Don Harrison were in attendance at all known meetings that they were informed about. These meetings, numbering about eight or nine were mostly held at Kaihu or at the marae at Waipoua. There were a couple of instances where they were barred from entry, as the meetings or parts thereof were being conducted in secret, behind closed doors, with only the Maori contingent allowed to be in attendance. Allan Titford, by a fluke of good fortune, had managed to get a photocopy of the deed shown above and tried constantly to have it accepted as evidence by the Waitangi Tribunal, to no avail. He tried to access it through the "document bank" relative to the case, but could never find it there. He repeatedly asked Sue Kendedine (Crown Law), David Colquoun (Crown Historian) or other Crown representatives / historians like David Alexander and Anderson Armstrong where the original "Deed" was, but never got a straight answer and was simply "fobbed off" by all of them. At all meetings where the dispossessed farmers were in attendance, this foundation document was not seen or presented. Allan Titford gave a copy of it to Sue Kendedine. We now know (2008) that David Colquoun had full, pristine copies of all the original "Deed" documents all along and could not help but know that there was absolutely no mention of any reserves called Manuwhetai or Whangaiariki. The only legal reserve mentioned, after all parties had come to mutual agreements, was Taharoa reserve for Parore Te Awha.
Further to the foregoing, government correspondence (Dept. of Lands & Survey) obtained under the "Official Information Act" shows that Garry Hooker, Te Roroa's so-called historian, was charged $11 under invoice C327815 for copies of these same "Deeds of Conveyance" on the 7th of September 1981. The Te Roroa cabal obviously knew the "Deeds"and accompanying testimonials written thereon were damning evidence against their claim, so made them "disappear" and never feature in the Tribunal hearings.
On the 17th of July 1939, an inquiry was held to ascertain why the two reserves, were not cut out of the sale on or shortly after February 8th 1876, when Parore Te Awha sold the whole Maunganui Block to the Crown. In preference to those pieces, Parore designated a 250-acre reserve for himself that he wished to call Taharoa, bordering on the southernmost of the three Kaiiwi Lakes.
Expert witness from the Lands and Survey Department were brought in to give evidence at the 1939 enquiry. Acting for the Crown was Mr. V.R. Meredith who, in conjunction with a Mr. Darby, answered the questions of Judge Acheson.


Acheson:: Mr. Darby, how do you account for the fact that the plans of Whangai-ariki and Manuwhetai were made?


Mr. Darby: There would be a wish on the part of some natives to have the plans made, and they would ask a surveyor to have it done. I can find no record of any request or authority to do it, in fact authority was not necessary to do it in those days.


Acheson: Some natives would ask for a plan and the private surveyor would make it?


Darby: Yes. As the Inspector of Surveys states, any native could ask a surveyor to make a survey and send in a plan.

This line of questioning continues and Mr. Meredith substantiates the testimony of Mr. Darby.


Meredith: There was an original plan dated 17th May 1875 of the whole block, and then there was a sale on the 8th February 1876, but between those two dates there was another plan made of these two reserves, on the 14th September 1875.


Acheson: From your knowledge of the position why should that intermediate plan have been made between the time the original plan was made and the date of the sale?


Meredith: Anyone could instruct a surveyor to make a plan. There is no record that it was sent to the Native Land Court or was required for the Native Land Court.

Judge Acheson then probes the reasons why no further action was ever taken with regards to these reserve proposals.


Acheson: When you get a plan showing a reserve that is not shown as a reserve in your deed of sale, do you just allow it to be there and not mark it as being repudiated?


Meredith: The Register shows a plan of that number as being received, but there is no action whatever taken with it. It was simply left to lie there. I presume no further action would be taken after that note was put on it stating the area had been proclaimed Crown Land.
The long report goes on in much the same vein. This was not an actual court case as such, only an inquiry to see if one was justified. The Nathan cabal really try to make it sound like this was a court case and get as much mileage as possible out of Judge Acheson's overly accommodating attitude*. When the modern-day claimants made their "representation" of this inquiry before the Waitangi Tribunal, they are reported to have used their own "doctored", typed version ("for easier reading"), which omitted significant detail not helpful to their case. In the final analysis, however, Chief Judge Shepherd, who Acheson was subordinate to and was required to report to, found no evidence whatsoever that there was any substance to the 1939 claim. With full access to all of the surveyor's, Native Land Court and Parliamentary reports and letters or gazette notices, etc., it was clearly evident that everything had been settled correctly in 1876, with no oversights, loose ends or outstanding issues. It is also significant that neither Parore Te Awha nor Tiopira Kinaki ever mentioned these reserves during the remainder of their lives or in their wills as items or parcels of land the Crown forgot to give them. Tiopira had no claim on anything to the south of the Bluff and every square inch of that region became the total and undisputed title of Parore Te Awha.
Merridith said the following in 1939:
That is the point I am making. They [Manuwhetai and Whangaiarikiki] were not for Parore, because Graham [William A.] was Parore's surveyor and he made the 250 acre reserve [Taharoa Reserve], and in that respect it is clear that the data incorporating that 250 acre reserve on the plan of transfer would obviously be in existence prior to the formal plan of the reserve, which was signed, I think, one month later by Graham.
I think there is a month or six weeks between the date of the transfer and the date of that 250 acres plan signed by Graham and put in by him. What I am leading up to is this: you will notice in the statement of Preece's on behalf of the Crown both Tiopira's and Parore's reserves are taken into account, and the purchase for that is deducted from the total purchase price.
Note: Tiopira was awarded a very large reserve at Waipoua and Parore was awarded a 250 acre reserve at Kaiiwi Lakes, which they bought back off the Crown after selling the rest of their holdings.
They are taken into account so that if there were any further reserves to be taken out which are not mentioned there should be a deduction in price similarly to the two cases of the reserves which are known and the purchase price for which is deducted.
Note: It must be remembered that full title for the lands or blocks in question was first awarded to the Maori owners, who then had the option to either retain or sell as little or as much to the Crown as they wished. The system was that they would. generally, have a choice part surveyed out of the block, which they wished to retain. They would then sell the entire block to the Crown and "buy back", at the same acre value, the part they wished to retain ownership of.
There is nothing on record to show that these were ever mentioned. I am referring to Manuwhetai and Whangai-ariki. They were not taken into the calculation and there was no reservation in the deed as in the case of the 250 acres. It would have been so simple if three reserves were to be made instead of one, and to have mentioned three.
Note: The final carefully surveyed and official plan showed no other reserves to be sectioned out for repurchase except Taharoa, which Parore Te Awha wanted to retain for himself. He subsequently sold the entire Maunganui Block to the Crown and purchased back his 250 acre Taharoa reserve.
The fact that some natives, whoever they might be, had a plan prepared of these two areas, carries the matter no further unless something is done in connection with those to create some sort of title or some sort of right to those particular individuals.
Note: The individuals who originally wanted the Manuwhetai and Whangai-ariki reserves [Wi Pou and Tiopira] were never awarded land south of Maunganui Bluff by the Native Land Court. By mutual agreement and trade-offs between Parore Te Awha, Tiopira Kinaki and Wi Pou or others, Parore gave up his claim to Tutamoe and Wi Pou, in return, gave up his claim to Maunganui. Parore gave up his claim to Waipoua and, in return, Tiopira gave up his claim to Maunganui. Everything in Maunganui Block became the possession of Parore Te Awha by mutual consent and undisputed agreement arrived at and witnessed in the Native Land Court.
Whatever may have been in the minds of whoever had the survey made can have no bearing on what subsequently happened at the negotiations between Tiopira and Parore and the Crown, the hearing before the Court, and the finalizing of the matters at that time. They cannot suddenly spring into being and be given validity and force because some individual at an earlier date took upon himself to instruct a surveyor to survey them, and nothing was done with those plans. I do not propose to carry the matter any further.
Note: It was, in the end, fully up to Parore Te Awha to have whatever reserves he wanted, as he and he alone was awarded full title and could sell or retain whatever he wished. He wanted only a placid reserve by the lakes, suitable for an elderly gentleman and nothing more. The rest he was very content to sell to the Crown.
Court closed 5:15 p.m. 7/7/39.
Te Rore Taoho, son of Taoho, attempted to lay claim to Manuwhetai in 1897 and had a letter written to Surveyor General Stephenson Percy Smith in this regard. S. Percy Smith was, of course very conversant with all that had transpired in the sore disputes of ownership over the Maunganui and Waipoua Blocks, as well as the final resolution, leading to full title being awarded to chief Parore Te Awha for the Maunganui Block. He was equally conversant with the fact that Parore Te Awha only wished to set aside and repurchase Taharoa Reserve within the block, which was subsequently surveyed by William A. Graham, under S. Percy Smith's leadership. Stephenson Percy Smith had risen to the position of Surveyor General in 1889. The official response from the Surveyor General's Office to Te Rore Taoho came from Head Draughtsman, Kennsington (who had worked in the Surveying Department at the time of the Maunganui Block sale, and subsequent repurchase of Taharoa Reserve by Parore Te Awha, in 1875-76). Kennsington's response letter to Te Rore Taoho was dated 30 December 1899, and he wrote:
'Te Rore Taoho is in error in supposing that the reserve was made for him at Manuwhetai. It was cut out at first, but afterwards it was found that the Deed of Sale did not exclude it, so the land was opened for selection as Crown Land'.
Indeed, the fully agreed and ratified decision of 1876, acceptable to all contesting parties, that Parore Te Awha had sole ownership rights over the Maunganui Block, meant that the much earlier Manuwhetai & Whangai-ariki reserves idea became null & void and obsolete. Parore wasn't interested in sectioning out those locations for repurchase and sold them outright to the Crown... end of story!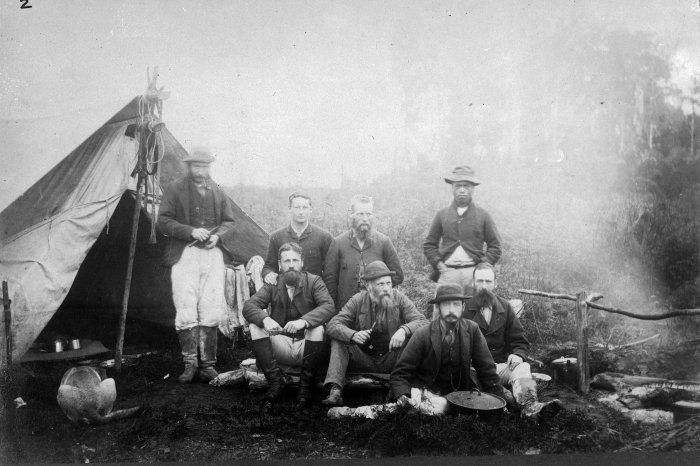 Stephenson Percy Smith (wearing a hat & holding a pipe in his right hand) sits centrally amongst his team in this 1886 photo. During the surveying leading up to, during and after the sale of the Waipoua and Maunganui blocks to the Crown, he was in charge of all government surveyors in the area and acted as overseer to their regional activities. He was fully and meticulously conversant with every aspect of the dispute between Parore Te Awha and Tiopira Kinaki or others, which had held up government surveying work for seventeen months between late 1874 and early 1876. When S. Percy Smith, in his capacity as Surveyor General of New Zealand, responded to Te Rore Taoho's letter in 1899, he was in possession of all pertinent documentation (which was on file at the Surveyor General's Office) and a memory of all that had transpired, inasmuch as he was personally involved in resolving the difficult and bitter dispute to the satisfaction of all contending parties assembled at the Native Land Court in 1876.
*Note: It is interesting that Judge Acheson was later released from his position as a judge, as his all-too-accomodating attitude interfered in his ability to make sound judgements based solely on factual evidence. The Crown, by consequence, dealt only in documented, clinical facts and required judges to rule or make judgements according to the law, not according to emotion or personal sympathies.
The arrogance of modern-day authorities, in assuming that a drove of professional individuals from 1876 onwards with "first hand" experience in dealing with the case somehow "forgot" to give two substantial parcels of land to "rightful owners", is truly absurd, amazing to behold and to contemplate. The case had been regurgitated and reviewed several times over, always with the same, carefully researched and informed outcome, until the 1980's and 90's, when the New Zealand Government assumed a "third party" position. Thereafter, for the first time ever, the contest was not between the Government and a "try it on", "nothing ventured - nothing gained" claimant, but between the "all Maori" Waitangi Tribunal and an isolated farming couple, deprived of the ability to defend themselves. Their "Freehold Title" had come via the Government, which had made the initial purchase in 1876, then on-sold subdivided allotments to individuals in the century that followed. Now, under the "new way of doing things" instituted in the 1980's, the Government withdrew fully from its protective responsibility, let original documentation pertinent to the case get stolen or conveniently lost, allowed the sacrosanct, guaranteed nature of "Freehold Title" be nullified and extinguished, resulting in the loss of the Titford farm & assets in a uninhibited, unopposed Waitangi Tribunal "free for all" and "lolly scramble".
SO, WHAT COULD BE CLEARER OR BETTER DOCUMENTED THAN THIS?
The reason why no further action was taken with Wi Pou's reserve proposals is that neither Wi Pou, Tiopira Kinaki, Uriohau hapu or Ngatiwhatua iwi owned one square inch of territory in the Maunganui Block. It is a well registered fact that Wi Pou and his Ngaitu hapu did a "trade-off" with Parore Te Awha, wherein he would give up all claims to Maunganui, provided that Parore gave up claims to Tutamoe. The entire Maunganui parcel was awarded to Parore Te Awha by the Land Court, after unanimous agreements were reached with all contending parties, including Tiopira Kinaki and his Te Roroa hapu. No further mention of anything "unresolved" or "forgotten" ever cropped up in the "wills" of the original contestants.
Parore had no desire to establish reserves at the positions of Manuwhetai and Whangai-ariki, which could be considered "young man's county" for hardy fishermen. The location was better adapted to those wanting a fishing camp on the edge of the often howling and hostile West Coast. Aged chief Parore Te Awha opted, instead, for a more placid and sheltered, inland eel-fishery reserve of 250-acres at the picturesque fresh water lakes nearby. The final plan drawn after his sale of the Maunganui Block to the Crown, clearly designates the boundaries of his preferred, very tranquil Taharoa reserve.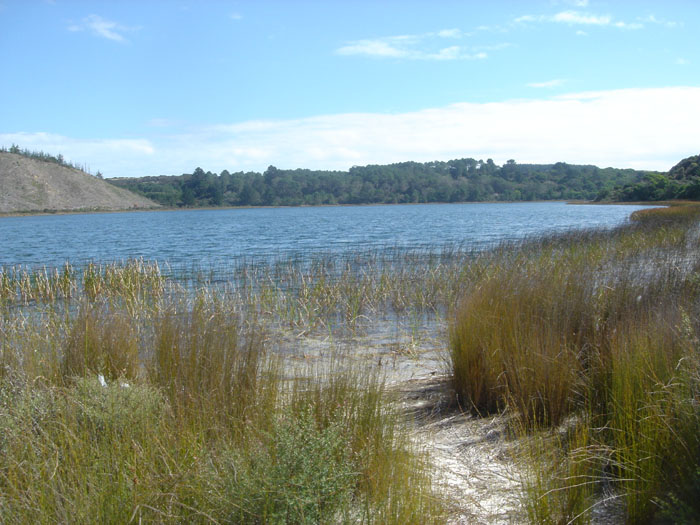 The Kaiiwi lake and surrounding land where Parore Te Awha set aside a reserve for himself, called Taharoa. The location was considerably closer to his Kaihu estate than the high ground of Maunganui Bluff. The placid waters of the lake, rather than crashing surf of the blustery sea coast, were more suitable to the needs of the dignified old chief, well advanced in age. Here he could live out his remaining years in peace.



This is the fully and accurately surveyed plan that was produced for Parore Te Awha by the only surveyor he ever engaged to do his work, W.A. Graham. The plan was completed on the 22nd of March 1876, a little over 6-weeks after he sold the entire Maunganui Block to the Crown, but "bought back" this reserve in the sale agreement. In latter years, as areas within the boundaries of this plan were sold to the Crown, further notations were added, declaring: Proclaimed Crown Land. This notation was added after the Crown bought the land, assumedly off Parore Te Awha's descendants, in 1952.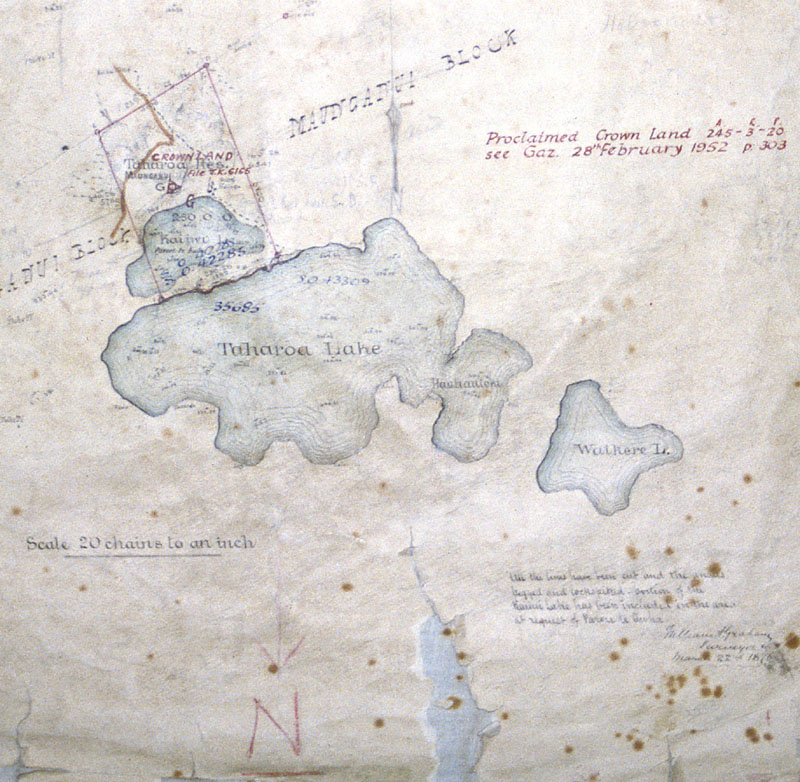 The only reserve that Parore Te Awha wished to "buy back" for himself after selling the entirety of his Maunganui Block to the Crown. His chosen reserve, bearing his name as the "titled" owner, encompassed most of Kaiiwi Lake and also bordered along the frontage of the large Taharoa Lake. The plan notation reads: All the lines have been cut and the angles pegged and locks-fitted - position of the Kaiiwi Lake has been included in the area at request of Parore Te Awha.... William A. Graham, Surveyor, March 22nd 1876.
The fact of the matter is that neither Te Rore Taoho in 1897, nor any other Te Roroa "opportunists" since, have ever had even the most remote vestige of a claim on any part of Parore Te Awha's land on Maunganui Block after the Native Land Court ruling of February 1876. The "Manuwhetai" or Whangai-ariki reserves idea never got past the most rudimentary proposal stage and later became an utter "non-event" when Parore Te Awha refused to acknowledge their existence and "buy them back" from the Crown.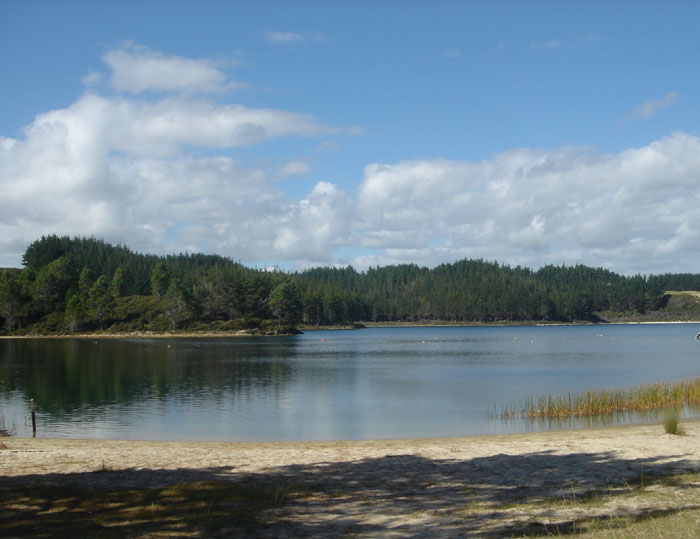 This is a part of Parore Te Awha's Taharoa Lake frontage and the foreground constitutes one boundary of the only area that Parore Te Awha wished to "buy back" from the Crown.
Te Roroa "opportunist" claimants need to become conversant with the basic process of how the Maunganui Block was disposed of: (1) Title was awarded to the Maori owner (Parore Te Awha) by unanimous agreement in the Native Land Court. (2) The Maori owner (Parore Te Awha) sold the entirety of his block to the Crown, after nominating an area that he wished to keep for a reserve. (3) The nominated reserve area was then surveyed very accurately by William A Graham and "officially" registered as a titled allotment, to be repurchased by Parore Te Awha. (4) Parore Te Awha paid the Crown for the nominated land of his pre-chosen reserve, whereupon full title of ownership for that allotment passed to him and later to his heirs. Parore Te Awha repurchased only what he wanted... nothing more and nothing less!
There is nothing in this transaction that has anything to do with anyone other than Parore Te Awha and the Crown...end of story!
NGAPUHI ELDER, GRAHAM RANKIN'S DYING WISH.
The Paramount chief of Ngapuhi wished it to be known that his call for justice in the Titford case extended beyond the grave. In order to let the world see how incensed he was at the injustices meted out against Allan and Susan Titford, the dying chief requested that Allan be a pallbearer at his funeral.
Graham Rankin was a historian of great renown, whose grasp on Northern New Zealand history was unsurpassed. He deeply researched the Titford case and knew that the claim against them was outright fraud. He wrote the following to the Minister of Treaty Claims, calling for redress and justice.
Graham Rankin,
16 Rankin St, Kaikohe.
June 4th 2001.
Minister of Treaty Claims,
The Hon Margaret Wilson.
Tena koe,
Eighteen months ago I met a man of good Bohemian stock. I have met him several times later, a young man with a terrible bile in his belly, and rightfully so.
No living person should suffer the pain of he and his wife and children, at the hands of Government and Associates, Ministers in particular. From the time the Te Roroa claim took effect, I asked, "could this be the land of our fathers".
In my view, how could Te Awha Parore and Tiopira own so much land, when Maori, at some time in our history had communistic laws? The Chief only apportions a small parcel of land for family requirements, no more, no less. The land belonged to the Tribe not the chief.
Te Roroa people are only squatters, living on the edge of Waipoua Forest. They don't even know what they are!! Ngatiwhatua or Ngapuhi. Like the Israelites, driven out of the Bay of Islands to Whangaroa, then fled with Hongi Hika in chase to Waipoua.
My Ngaitu people were the earlier settlers, our Tupuna, Chief Kohuru of the funerary chests at Kohekohe. I am angry that the chests were never returned to Kohekohe, but interred in a simple ceremony at Waimamaku without permission.
I have read the Te Roroa report, also attended the findings at Waikara Marae, men and women in their finery, Ministers, Members of the Tribunal, others in country apparel, gumboots, oilskins, horses, tractors and dogs, out for a great day. The big tops, a large dining area, all at the expense of the Government of the day.
Before the seal had set, this 15th day of May 1990, the great philosophers found there was a grave mistake. Accordingly, a prompt change to the Act was pushed through by Parliament, "land that was owned by private ownership should not be challenged". The work of the claim was shoddy, unclean and destructive in the eyes of our New Zealand Society.
My question Minister, the land can never be given to Maori, sitting as a "crown jewel" when it should be returned to Allan Titford, now.
I asked Titford to bring me copies, various deeds, Court minutes, successions before writing. I am satisfied what I have witnessed, by the sequence of events, from the time the Crown purchased Maunganui lands from Te Awha Parore in successions, or lease, is compatible with the standard within the law of our country.
Also let it be known to the Tribunal and yourself, in permanent storage, Turnbull Library had "an epitome" of official documents, relative to native offers and land purchases in the North Island of New Zealand. A very useful follow up guide for claims. Compiled and edited by N. Hansen Turton. There is a large section contained about Maunganui lands.
Enclosed, is exhaustive research provided by Titford. Maps and Deeds can be supplied if required. I am a devoted protector of my Maori Peoples interests if a case is fair and accurate, same goes for Pakeha people.
I must reiterate, this must be the saddest case I have come upon. Bad research coupled by greed and inefficiency. Please have the Tribunal sight this letter. Be guided by extra care in the future.
Tena Koe Hoi ano
Signed, Graham Rankin, Ngapuhi elder.
Regards to our great Prime Minister.
---
The history content of this article is a synopsis of the exhaustive research undertaken by Susan Titford, great-great-great granddaughter of chief Eruera Patuone of Ngapuhi.
Main body text writing by Martin Doutré in consultation with: Allan Titford (dispossessed farmer), Ross Baker (Head of the One New Zealand Foundation), Noel Hilliam (former Curator of the Dargaville Maritime Museum), Northland Historian Joan Leaf, Ngai-Tahu historian, Jean Jackson and many other contributors.