The Book the Treaty Grievance Industry doesn't want you to see!
72,000 words.

165 pages.

75 pictures.

20 chapters.

A4 pages, showing rare colonial documents at near original size.

The final English draft of the Treaty shown in full colour.

Many rare Treaty documents never before published.

Treaty Poster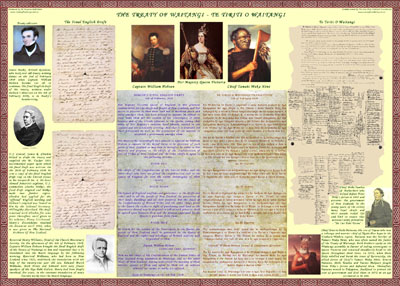 700mm x 500mm Full Colour Poster.
Ideal for the classroom environment. The story of the Treaty, from the drafting participants, to the final English draft that they produced, to the finished Tiriti O Waitangi translation, to those who protected the Treaty and its unifying ideals thereafter.
---
To order by Credit Card, click here.
To order by Cheque, please post order to:
De Danann Publishers,
P O Box 300-111, Albany,
Auckland, New Zealand.